Prometheus' Garden & Other Twisted Tales
A rare opportunity to see legendary underground animator Bruce Bickford's 1988 solo project.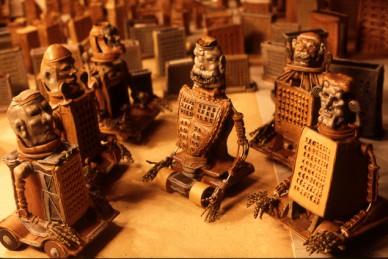 Legendary underground animator Bruce Bickford is best known for his Frank Zappa collaborations, but in 1988 he took on a solo project for which he held complete control over. The resulting film is his 28 minute hallucinatory morphing claymation masterpiece which takes us on a trip into a unique world that only he could have depicted. Celebrating its 25th anniversary, we've put it alongside some more contemporary surreal fare, such as Allison Schulnik's sumptuous Grizzly Bear promo, Forest, and Matt Greenwood's disturbing, and slightly creepy house-party film, If This Aint Real.
Forest - Grizzly Bear Dir: Allison Schulnik, 4 mins
Baboon Dir: Einar Baldvin, 3 mins
Hypozentrum Dir: Xenia Lesniewski, 14 mins
Two Fingers - 'Vengeance Rhythm' Dir: Chris Ullens, 3 mins
Prometheus' Garden Dir: Bruce Bickford, 28 mins
if this aint real Dir: Matt Greenwood, 8 mins
No One Remains Virgin Dir: Wong Ping, 5 mins
Oracle is Born..? Dir: Rao Heidmets, 13 mins
Dir: Bruce Bickford, USA 1988, 80 mins
Cert: 15
Nearby
After this
Similar