Film Club: Sherlock Jr & Cops + Live Score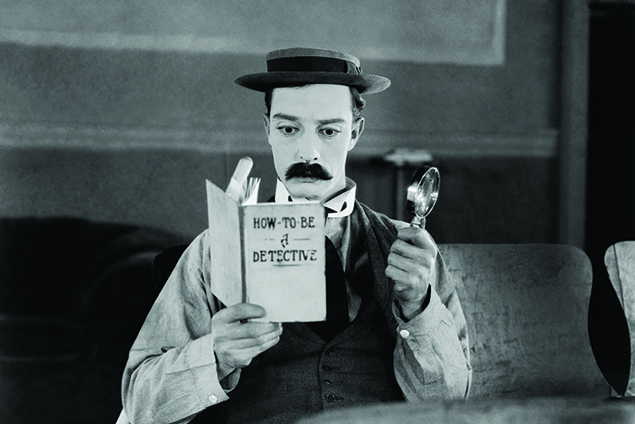 A Buster Keaton double-bill with live piano accompaniment from Cyrus Gabrysch... (dir. Buster Keaton) USA, 1924 – 45 mins (U)
Keaton plays a film projectionist in this, one of cinema's greatest films. Studying to become a detective, he's in love with a beautiful girl, but he's not the only one. One day he's accused of stealing his girlfriend's father's watch by his her family, much to the delight of the other suitor. Heartbroken, he drifts off to sleep at work, and dreams of world where he's the detective, rather than the alleged.
Ninety years old, and quite simply one of the greatest comedies of all time.
Cops (dir. Edward F. Cline & Buster Keaton) USA, 1922 – 20 mins (PG)
In arguably his most well known short, Keaton plays a young man hoping for business success to win over the girl that he loves. But when, in desperation, he steals some money, he ignites a series of ever more spectacular disasters that escalate into one of cinema's greatest chase sequences, with seemingly the entire Los Angeles police force on his tail. Full of classic stunts and hair-raising escapades, this is Keaton at his witty, deadpan best.
Cyrus Gabrysch is a silent film pianist based in London, England. He is one of the resident accompanists at the British Film Institute, South Bank and is one of the founder members of the Kennington Bioscope, a highly acclaimed fortnightly event at the Cinema Museum dedicated to screening neglected and forgotten silent films. Cyrus has been a dance class accompanist for the English National Ballet, Royal Ballet School and Rambert Dance Company for many years and in 2009 he was invited to attend the Pordenone Silent Film Festival master class programme. Since then he been playing and composing for film ever since around London and the UK.
Nearby
After this
Similar