Visiting
About Birmingham and Flatpack Festival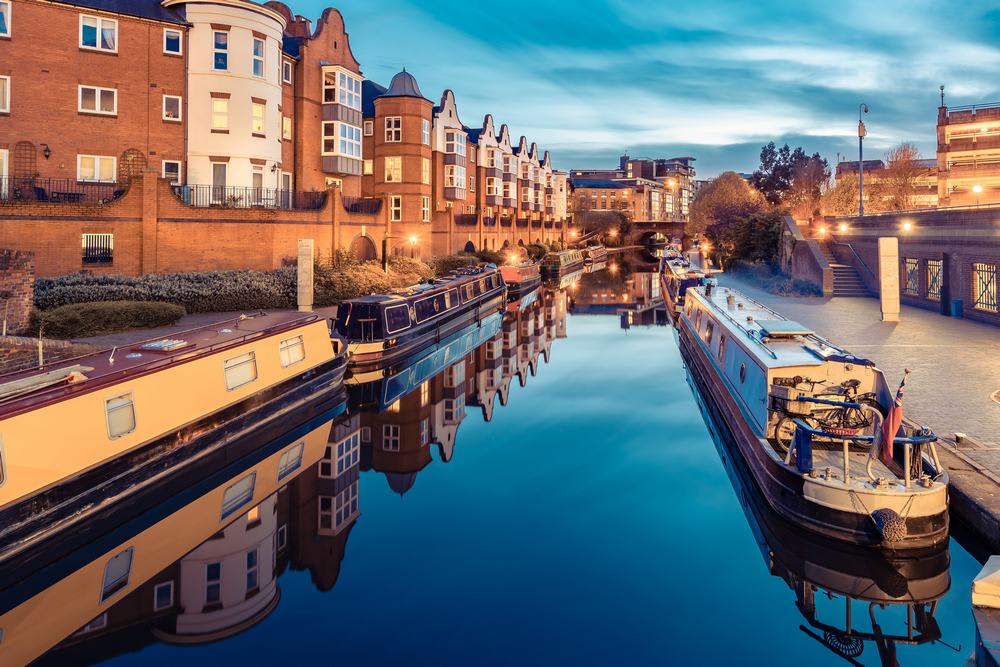 This is Birmingham - the birthplace of the Balti, the home of Metal, and home to one of the most culturally diverse communities in the country. Located in the heart of England, the second city beats with a rich history, a lively artistic and cultural scene and pumps water through a bigger canal network than Venice.

Not far off from one of these many canals, in Digbeth, Flatpack Festival was born as 7 Inch Cinema - a mixed media film night in the former Rainbow Pub.

Thirteen years on, we're now a mixed-arts and film festival that packs weird and wonderful work from around the world into a week of discovery every spring.
GETTING HERE
Flatpack Festival takes over many venues across Birmingham, though most of our festival activity is concentrated in Digbeth and the city centre.
For an updated map of all of our Festival venues, please click here.
By Road

Digbeth is less than 10 minutes walk away from the Bullring Shopping Centre and Grand Central. On and off street parking are generally available and there are a number of car parks, most charging less than £3 for a day.
Some of the closest to the Flatpack Hub:
North Yard Car Park
Green Parking Digbeth Public Car Park (Digbeth High St/Oxford St)
Coventry Street Car Park
Moat Lane Car Park
By Bus/Coach

There are a number of buses that travel down Digbeth High St. The closest bus stops to the Flatpack Hub are 3, 4, 4A, 5, 6, 17, 60, 97, which all stop on Gibb St. Bus services are operated by Network West Midlands.
National Express offer great prices on travel to and from Birmingham.
All coaches arrive at the newly refurbished Birmingham Coach Station on Mill Lane, less than a ten minute walk from the Bullring and Flatpack Hub.
By Rail

The nearest train station to Digbeth is Moor Street (just 12 minutes walk away). Turn right onto Park St, then turn left onto Floodgate St.

Digbeth is also a 15 minute walk from Birmingham New Street. Exit onto Smallbrook Queensway and turn right onto Saint Martin's Queensway. Take a slight right on Moor St, turn left onto Park St and then turn right onto Floodgate St.
By Plane

Birmingham has great air links with many major airports situated in the UK, Channel Islands, Ireland and further afield.
Birmingham Airport is located 7 miles east-southeast of Birmingham city centre, in the Metropolitan Borough of Solihull. Directly connected to Birmingham International Station by a free 'Air-Rail Link' system, you can travel hassle-free to Birmingham New Street in ten to fifteen minutes.
#WHENINBRUM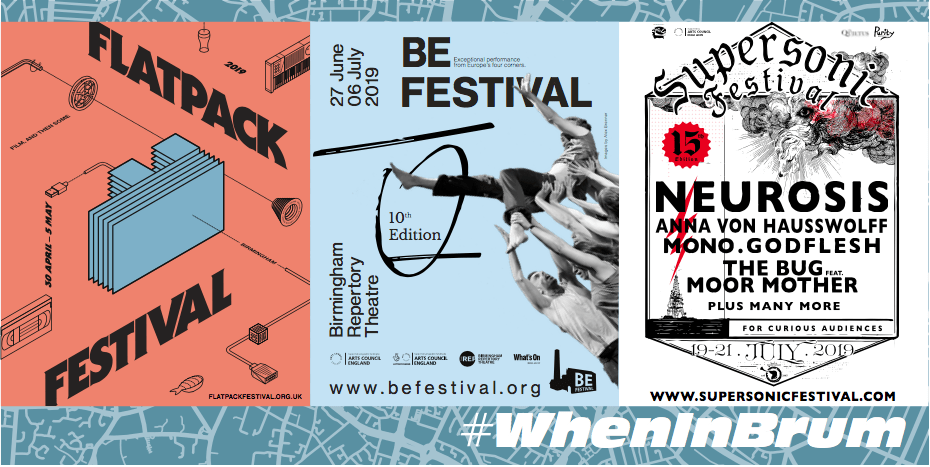 We've all been to a new city and searched high and low for the best spots where the locals hang out.

#WhenInBrum is for the curious amongst you to do and see as the locals do.
An initiative started by 3 of the city's most dynamic independent festivals in film, music and performance; FLATPACK (30 April - 5 May), BE FESTIVAL (27 June - 6 July) and Supersonic (19 - 22 July), #WhenInBrum is a window into the latest happenings from some of the favourite cultural and foodie independents that call Brum home.
Below you can find a list of places to stay with, to eat with, and stay updated with and to get the proper Brummie experience.
STAYING HERE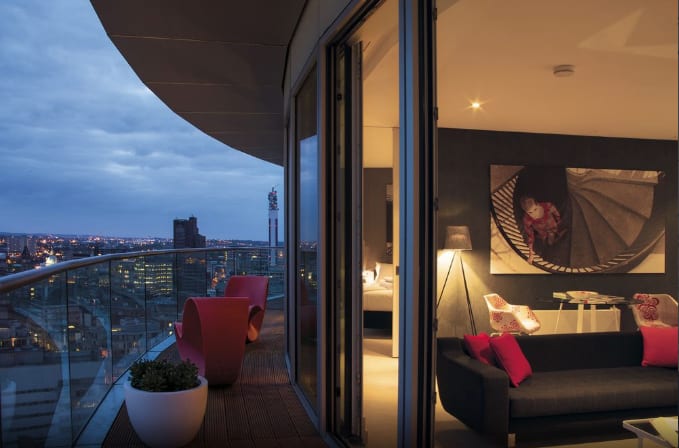 10% discount rate for audience members
Code: Flatpack2019
15% discount rate off the best online flexible rate for audience members
(Arcadian Only) Code: FLAT15
20% off for audience members
Code: Flatpack19
EATING & DRINKING HERE
DIGBETH
Kanteen
Custard Factory, Birmingham B9 4AA
Kanteen is the place for breakfast, brunch and lunch if you want to eat healthy food with no hassle. Inspired by world street food, Kanteen have a hot box menu for each day of the week (complete with vegan-friendly options so everyone can enjoy!)
Digbeth Works
79A Digbeth, Birmingham B5 6DY
The new kid on Digbeth High St, Digbeth Works is an independent eatery and lounge bar with the cosiest vibes. Fill your stomach with some Asian-inspired nosh, catch up with mates over a fresh brew, or keep the 2 4 1 cocktails all to yourself.
Digbeth Dining Club
Lower Trinity St, Birmingham B9 4AG
Open every Thursday-Sunday night, DDC offers a wide variety of street grub all under the quirky roof of Spotlight. In the mood for Caribbean or Asian food? Want to have your Urban Cheesecake and eat it too? DDC has you covered! With regular No Bones Thursdays, vegans and veggies will have a place at the table too.
CITY CENTRE
Cafe Artum
177 Corporation St, Birmingham B4 6RG
Love records and a good cuppa? You'll feel right at home at Cafe Artum, a vibrant creative hub plus cafe plus record store nestled amongst the terracotta buildings of Methodist Central Hall and the Law Courts.
Medicine Bakery and Gallery
69a New Street, Birmingham B2 4DU
If you find comfort in art and artisan pastries, Medicine Bakery and Gallery gives you a healthy dose of both worlds. With regular exhibitions, there's almost always new work you can admire in their white airy space - cronut, coffee, or ciabatta in hand.
For a more in-depth guide on where to fill your belly in Brum, check out the Birmingham Guide in our brochure (p.53).
KEEP IN TOUCH WITH BRUM

Want to keep up-to-date with all the latest happenings year-round? Check out the amazing publications and organisations below so you never miss a thing…
Visit Birmingham
iCHOOSE Birmingham
Letterbox
Independent Birmingham
I Am Birmingham
Grapevine
Wire
Brum Hour
Midlands Movies
Birmingham Updates
IGers Birmingham
Filmwire
Counteract