Harmony Korine brings his particular vein of controversy to this tale of a quartet of restless college girls who resort to crime to fund their Spring Break.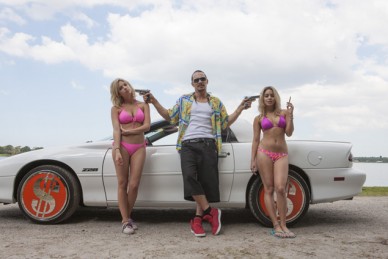 A quartet of restless college girls, short of funds and desperate to take part in America's annual bacchanalian fixture Spring Break, decide to don Pussy Riot balaclavas, rob a restaurant and hit the road for Florida. Last time we showed a Harmony Korine film it was the surreal, narrative-free VHS oddity Trash Humpers, so it's a surprise to see him return with a proper multiplex movie starring tween idols Selena Gomez, Vanessa Hudgens and Ashley Benson. It could've been a carcrash but the combination works a treat, a sun-kissed, slow-motion cocktail of sex, guns and consumerism with a show-stealing turn by James Franco as gangster rapper Alien, sporting cornrows, gold teeth and a pathological obsession with Britney Spears.
To read an interview with director Harmony Korine on the issues of making a film like this, click here.
Dir: Harmony Korine, USA 2012, 92 mins
Nearby
After this
Similar