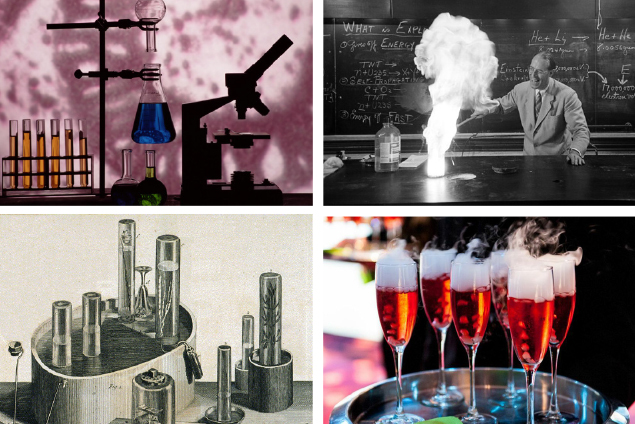 An evening of combustible vapours, scientific cocktails, and free thinking. Inspired by chemist, theologian, and all-round visionary Joseph Priestley.
Priestley's life and ideas will help to shape a freewheeling one-night festival to help kickstart the British Science Festival. On Saturday 6th September the Birmingham and Midland Institute – a building with its own history of world-changing thinkers – will be abuzz with films, performances and hands-on experimentation. The programme will divide up into five main areas:
LABORATORY 100-seater auditorium hosting a range of experiments and activities relating to Priestley's work. Experiments will take place from 7:00 - 9:30pm.
7:00 – 7:30pm Rowena Fletcher-Wood: What Does Oxygen Look Like?
7:40 – 8:10pm Prof Gron Tudor Jones: Like the Crack of a Pistol...
8:20 – 8:50pm David Price: Science Lucky Dip
9:00 – 9:30pm Dr Matt Pritchard: The Unseen
SCREENING ROOM Home to a rolling programme of films on the theme of chemistry, including BBC documentary 'Every Breath We Take' (dir: Laura Mulholland). Films will screen from 7:00 - 9:30pm.
POP CAFE Serving a range of carbonated beverages and scientific cocktails made by chemist and mixologist, Noel Jackson, with DJ Grindi providing the soundtrack throughout.
THEATRE Using an array of 'obsolete' projection equipment Bristol's 'Nachleben' film lab and archive will explore the physical magic of optics in a visual light play that reawakens the viewer to the wonder and intrigue of a pre-digital world.  Performing In accompaniment will be the sound artists and engineers Tom Bugs (Bugbrand) and Solina Hi-Fi, who will exploit the rich tone and texture of self-designed & built analogue circuits, so that sensual worlds react and interplay. The performance will take place from 9:45pm – 10:45pm.
SOAPBOX A series of bite-sized talks on chemistry, science and religion, and the Priestley Riots. Featuring Dr Sally Hoban, Dr Malcolm Dick, Dr Jonathan Atherton, and Dr Chris Upton.
7:00 – 7:30pm Dr Sally Hoban: The Art and Science of the Lunar Society
7:40 – 8:10pm Dr Malcolm Dick Talk: Chemical philosopher or political priest? The numerous lives of Joseph Priestley (1733-1804)
8:20 – 8:50pm Dr Jonathan Atherton: Gunpowder Joe? Priestley and the Birmingham Riots of 1791
9:00 – 9:30pm
Please note that doors open at 6:30pm, with all events starting at 7:00pm.
See also: Dr Malcolm Dick leads a Priestley walking tour on Saturday 6th at 5pm.
Dr Chris Upton: Dr Katterfelto (and his marvellous cat)
Nearby
After this
Similar