Special Events
Read on for an overview of the Special Events programme.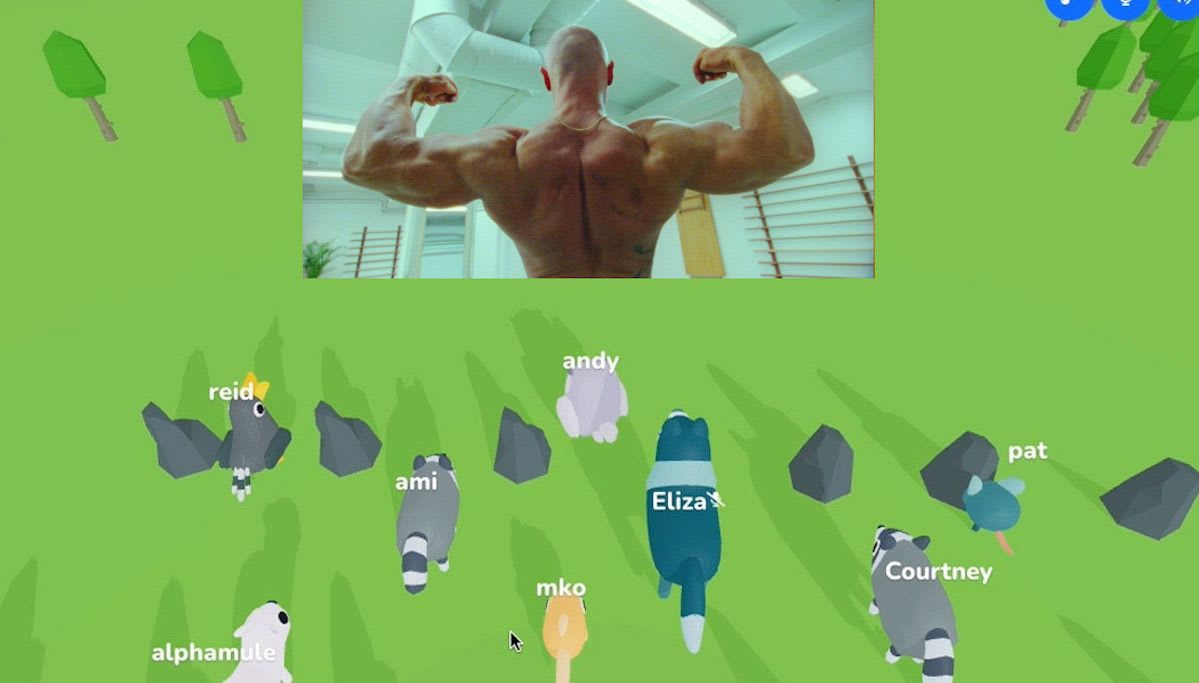 Flatpack Taster
21 May | 20.00-21.30 | Free
To celebrate the start of this year's festival, we invite you to join us for a taste of the many delights in store over the next ten days. We're using Skittish for this event - a brand new platform designed for collective film watching and chatting with friends (and strangers!) You'll be able to explore the virtual space around you, join a conversation, or just watch films -- and you get to do it all as a badger, an owl, a racoon, or one of the other 75 animals available.
The event is free but there are limited tickets available, so be sure to book early.
Trash Film Club and Greg Sestero vs. Verotika
22 May | 20.00-22.00 | Dir. Glenn Danzig | Book now | £4
Most bad film fans would say that The Room can comfortably claim to be the worst movie ever made...but wait! There's a new contender in town, and its name is Verotika. Inspired by Black Sabbath - the Mario Bava film that gave the legendary Birmingham band their name - Glenn Danzig's horror anthology is an unholy mess of awful CGI, stilted acting, scenes that go on forever and a woman with eyes for nipples. And who better to help Trash Film Club decide if Verotika has snatched the bad film crown than The Room star Greg Sestero, who'll be joining TFC hosts Luke and David for their very first online commentary! They'll be talking low budget horror, the random life of a jobbing actor and ultimately deciding if Glenn Danzig is the new Tommy Wiseau.
We Are Parable - Re:Connect
23 May | 18.00-19.15 | Free
We've been fans of We Are Parable's work ever since they took over a barbershop in Birmingham to show episodes of Desmond's a couple of years ago, so it's great to be teaming up with them for both our festival and their season: "Who We Are", a long term nationwide celebration of Black Cinema. For this special event, we've handed over curatorial responsibilities to Anthony and Teanne Andrews (co-founders of We Are Parable) have selected three of the finest shorts to come out of London in recent years.
Voices From Isolation - Reflections on The Windrush Scandal
26 May | 19.00-21.00 | Free
Over the last year British Filmmaker Sonita Gale has shone a light on the hostile environment created by immigration policies in the UK through the making of her film Voices From Isolation. The documentary explores the chasm between Britain's rich and poor, unveiling how the country has reached a point of crisis. In this special screening and discussion, Sonita will share scenes from her near-complete documentary, and will be joined by social commentator and Windrush Campaigner Patrick Vernon, and Natalie Barnes (daughter of prominent Windrush campaigner Paulette Wilson) to discuss the Windrush Scandal.
A Collective Cut & Paste
27 May | 19.00-21.00 | Free
Taking inspiration from the fantastic documentary Tomorrow is Saturday, this live masterclass-come-workshop focussing on the art of collage is hosted by the Birmingham Collage Collective - a growing group of artists based all over the city. First we'll hear from a few of the members, who will delve into their approaches and show examples of their work, offering tips and advice, and then it's time to get out the scissors/scalpels and have a go yourself in an interactive workshop.
You will need: Either scissors or a scalpel (and a cutting mat if using a knife);. Some glue (preferably a glue stick); Some magazines, newspapers, photos, pieces of paper etc; Something to stick your cut-outs onto (i.e. some card or a sturdy piece of paper)
Life Drawing at the Starkers Academy
28 May | 18.00-20.00 | Free
Whether you're one of those enviable people who found their inner creative during lockdown or not, the fabulous Starkers Academy welcomes you, whatever your drawing ability (or lack thereof). Beamed live from the Academy itself (featured in the award-winning animation Nude Triumphant), this life drawing event will be sprinkled with theatre, laughter, and extravagance, courtesy of the inimitable 'Professor'.
Before taking pen, brush, or pencil to paper though, we'll screen Nude Triumphant, a beautiful 8 minute film, which combines painting from life with experimental digital animation and was produced during lockdown with a community of Queer and intersectional life models and artists. After the screening you will be guided through 90 minutes of life drawing, with Valentina, the Starkers Academy's own superstar model, taking centre stage and exposing her true self.. All you need is yourself, your preferred drawing implement (a pencil is more than adequate) and a plethora of paper.
This event comes from the heart of Nude Triumphant's creators, Figuration. Nude Triumphant was produced by Animate Projects and has been supported by Arts Council England.
Shorts & Hops with DigBrew
29 May | 20.00-21.30 | £14
Sipping on a beverage whilst taking in a selection of shorts has long been a tradition at Flatpack, having set up pop-up screenings in many a watering hole - and we're not going to let the pandemic disrupt this long held festival custom. We've teamed up with the wonderful folk at one of the Midlands' finest establishments, independent brewery DigBrew, and not only curated a special programme of off-the-wall, brilliant short films (including the greatest short of all time!), but carefully picked out some accompanying beers to drink with them. So whilst you're enjoying one of their finest DIPAs (Waka / Jawaka - named after Frank Zappa's fourth album) you'll be taking in the mind-melting work of Zappa's collaborator Bruce Bickford.
Flatpack Awards
30 May | 20.00-22.00 | Book now | Free
After 10 days of screenings, bonus features and special events, we're getting together to reveal the 8 award winners from our 5 competitions: short film competition, Optical Sound, Screendance, Colour Box, not to forget our new mid-length award.
Starship Impossible with the Brothers McLeod
30-31 May | Book now | Free
Join Captain Quitter and his crew as they journey deep into space in this comedic sci-fi animated extravaganza, from the continually brilliant BAFTA-winning duo, The Brothers McLeod. Made during the global lockdown, this series of bitesize episodes (lasting 30 minutes in its entirety), saw them join forces with the media phenomenon that is Misfit Inc.
Along with an unveiling of all of the episodes, the Brothers are on hand to talk you through the production process, how they came up with the idea and why they think the world needs another sci-fi story.