A few dates for the diary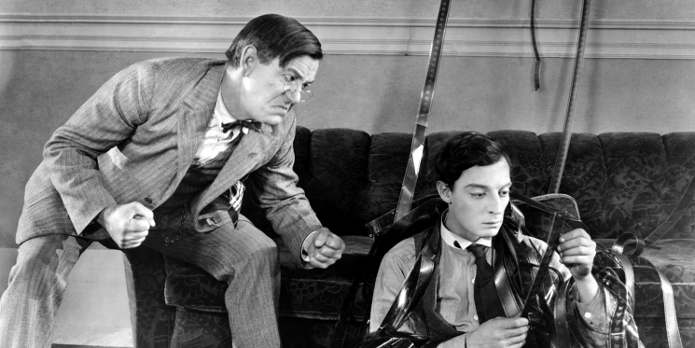 The programme is finalised and the brochure is coming together nicely. Here are a few of the big events for your diary over the festival week:
Tuesday 22 March, 6pm at VIVID
Festival hub launch – This year's joint Flatpack and Fierce festival hub at VIVID will, for the duration of the week, be re-named The Dirty End. The hub will host a café, performances, screenings and resident artists from both festivals throughout the week.
Wednesday 23 March, 7.30pm at the Patrick Centre
Shadow Shows - The official festival opening is the first UK performance of an immersive piece using sound and projections, devised by Pram and Film Ficciones. Followed by a knees-up at the Victoria.
Thursday 24 March, 7.30pm at Town Hall
Digging for Gold - As part of a celebration of Birmingham-born archivist Iris Barry, a selection of classic silent cinema including Buster Keaton's Sherlock Jr, with live accompaniment by Nigel Ogden (The Organist Entertains). Tickets are already available from the Town Hall website here.
Thursday 24 March, 8pm at Ikon Eastside
We Don't Care About Music Anyway + Sakamoto Hiromichi -Documentary about Japan's experimental music scene, followed by a live performance by one of the film's stars. Sakamoto Hiromichi takes cello-playing in unexpected directions using saws and angle-grinders.
Friday 25 March at The Edge
Ra! Ra! Ra! - An evening of music and visuals devoted to the cosmic voyages of Sun Ra, presented by Grandmaster Gareth and Outer Sight.
Saturday 26 March, 8.30pm at Ikon Eastside -
In Bed With Chris Needham As part of the buildup to Home of Metal, a legendary video diary from 1992 filmed by a teenage metalhead in Loughborough.
Saturday 26 March, from 9pm at VIVID
Paper Party - The follow-up to last year's Plasticine Party will feature live performances by Sculpture and Origamibiro, new VJ set from animator David Wilson and plenty of paper based antics.
Sunday 27 March, 7.30pm at the Electric Cinema
Keystone Cut Ups - Performance by People Like Us and Ergo Phizmiz, reworking early cinema.
All this and much more to be announced! General tickets are on sale at the end of the month. Keep your eyes peeled for more announcements!
You can also see what's in store at Fierce Festival here.