...and we're off!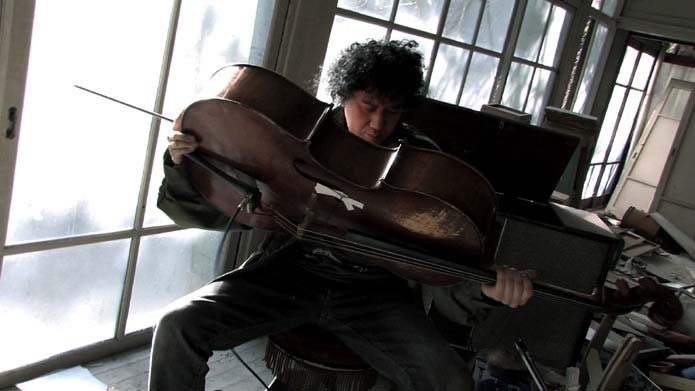 Morning, And what a beautiful day for a film festival.
After a jam-packed and atmospheric opener with Shadow Shows, Flatpack proper gets underway today. Here are a few options...
VINTAGE MOBILE CINEMA- 12-5pm - Handsworth Library.
Following an impromptu visit to Victoria Square yesterday, this Rialto on wheels will be touching down in Handsworth today. The programme includes children's shorts, archive footage of the local music scene and at 2pm a 60s film about green spaces in Birmingham introduced by writer Catherine O'Flynn. There's also a range of crafty activities going on courtesy of Craftspace.
NESST 2 OPENING- 5.30-7pm - Zellig, the Custard Factory.
The mysterious Baron Mordant has left a concrete structure lurking in the basement of Zellig, beaming rescored transmissions from the Central Office of Information. This evening it's your first chance totake a look at an installation which will run throughout the weekend.With thanks to Auchentoshan whisky.

MOTHWASP - 6.30pm -Fairbridge
Following that you might like to wander around the corner, for the first performance by a Birmingham three-piece employing heavy noise and slide projectors to maximum effect.
SHORTS ON WALLS - 6.30pm - The Dirty End
...Or you can check out the latest animation from around the regionat The Dirty End, including the first peek at new films from Louis Hudson and Steven Spencer.
DIGGING FOR GOLD - 7.30pm - Town Hall
In honour of our patron saint Iris Barry, a feast of silent film and live music, including Buster Keaton stepping through the screen in Sherlock Junior. Live accompaniment by Nigel Ogden and Alcyona Mick.
WE DON'T CARE ABOUT MUSIC ANYWAY- 8pm - Ikon Eastside
This documentary about the experimental music scene in Japan has taken on a very different resonance since the horrible events there a fortnight ago.
This event will finish with a performance by cellist Hiromichi Sakamoto.

...And that's not forgetting a documentary on the Magnetic Fields, the new film from Kelly Reichardt, a lovely slice of life in the Italian countryside and a roundup of the latest world animation at the Electric which includes award-winners The External World, The Eagleman Stag and Tord and Tord. And this is one of our quieter days.
Food is also being served throughout the day at The Dirty End, and of course Fiercethings are happening across the city. We won't be doing this every day, I promise! But if you want some more potted highlights here are a couple of Flatpack writeups from yesterday...
The Guardian: Forget Tribeca online: here's the virtual Flatpack festival
Creative Review: Flatpack Festival 2011