Optical Sound: Cinema for the Ear...
Optical Sound is always the most challenging part of the programme to put into words. 'What is it?' people often ask. 'A selection of audiovisual performances'. 'What are audiovisual performances?' This is where it gets tricky...
Let me just consult my dictionary… 'the execution of work pertaining to, involving, or directed at both hearing and sight'. Well that settles that then - right? The really difficult bit is summarising the experience you can expect when attending an Optical Sound event. AV (short for audiovisual) performances are rarely alike - and the same goes for the experience you might have when immersed in one. That's what makes them so special. And this year's line up is no exception...
ICHI Anime Show
The word 'unique' does not do ICHI justice. I first saw him play about 10 years ago at a tiny music festival called In The Woods - his idiosyncratic DIY one-man-band vibes had me utterly charmed, and I thought he'd be really great working with visuals. Many years later, an opportunity arose to commission ICHI for the Coventry City of Culture programme - to create sounds and music to accompany a selection of old anime shorts from the 60s, 70s, and 80s. He'd never done anything like this before, but was up for the challenge, and he approached it via a combination of live foley and musical accompaniment. It was amazing. So good in fact, we had to bring it to Birmingham for the festival.
Friday night performances
Next up, two performances that are completely different, and make up the roster for Friday evening. First on the bill is Austrian poet, computer guru, and typeface obsessive Jörg Piringer. Jörg has written his own software for his AV performance, which consists of letters that make mesmeric patterns in response to his voice - this is a perfect example of a description not doing any justice to the actual performance! You're just going to have to trust me on this one.
Jörg is followed by Slovenian digital maestro Tadej Droljc. Another coder, but his aesthetic is worlds apart - he's doing two short performances of about 15 mins each, one called Singing Sand, which is apt because the visuals look like millions of grains of sand swelling, and moving, like a murmuration of multicoloured starlings. Definitely one for the electronica heads.
Saturday night performances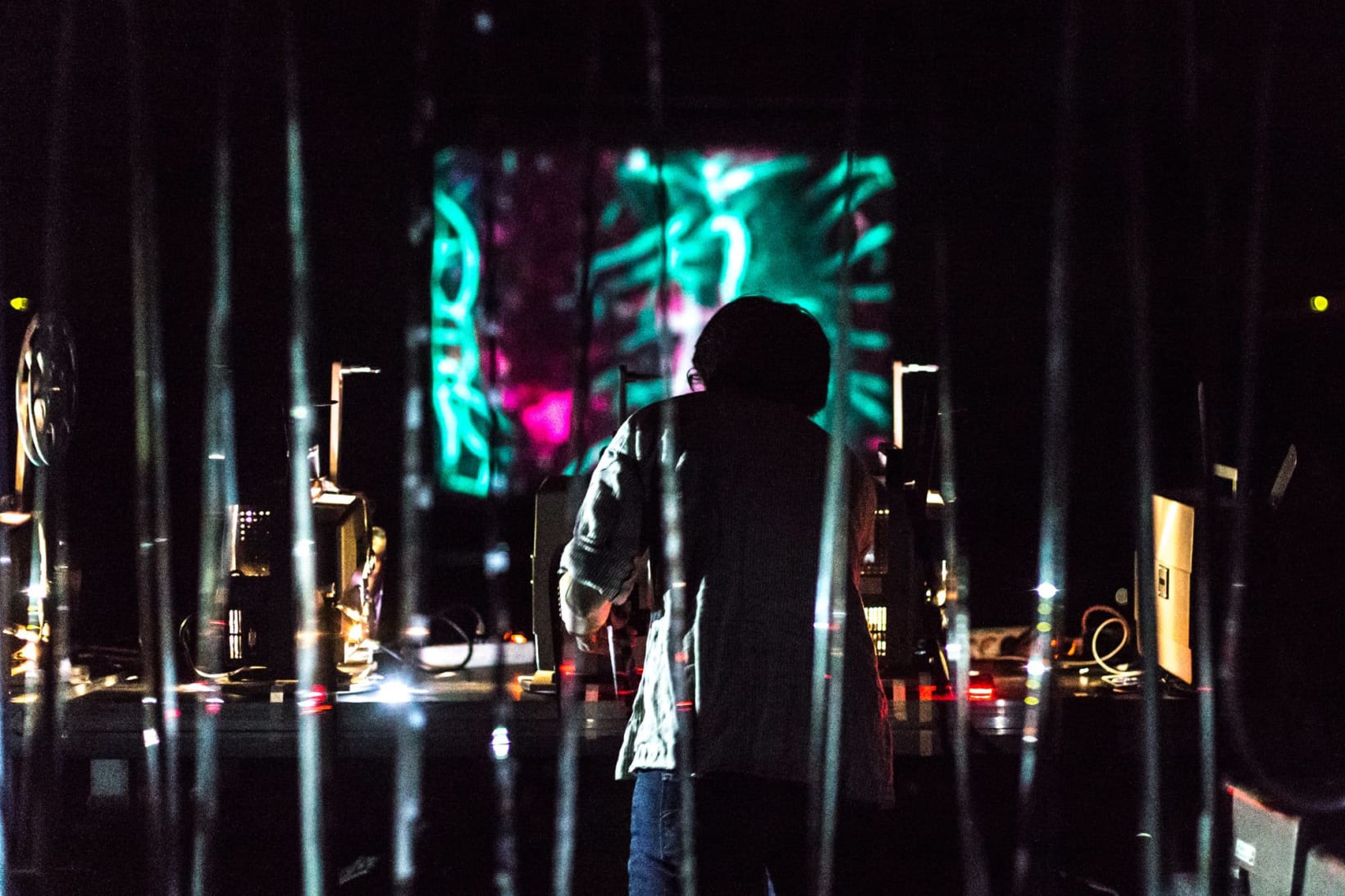 On Saturday evening we welcome two duos from the Netherlands - Lichun Tseng & Robert Kroos, and Esther Urlus and Roel Meelkop (along with their thirteen 16mm projectors). This is proper analogue stuff, running loops of abstract, beautiful grainy imagery on multiple screens, with electronic soundtracks that will reverberate through your body.
Optical Sound Pass
If you love the sound of all four of the weekend performances, grab yourself an Optical Sound pass to get four the price of three!
Frankie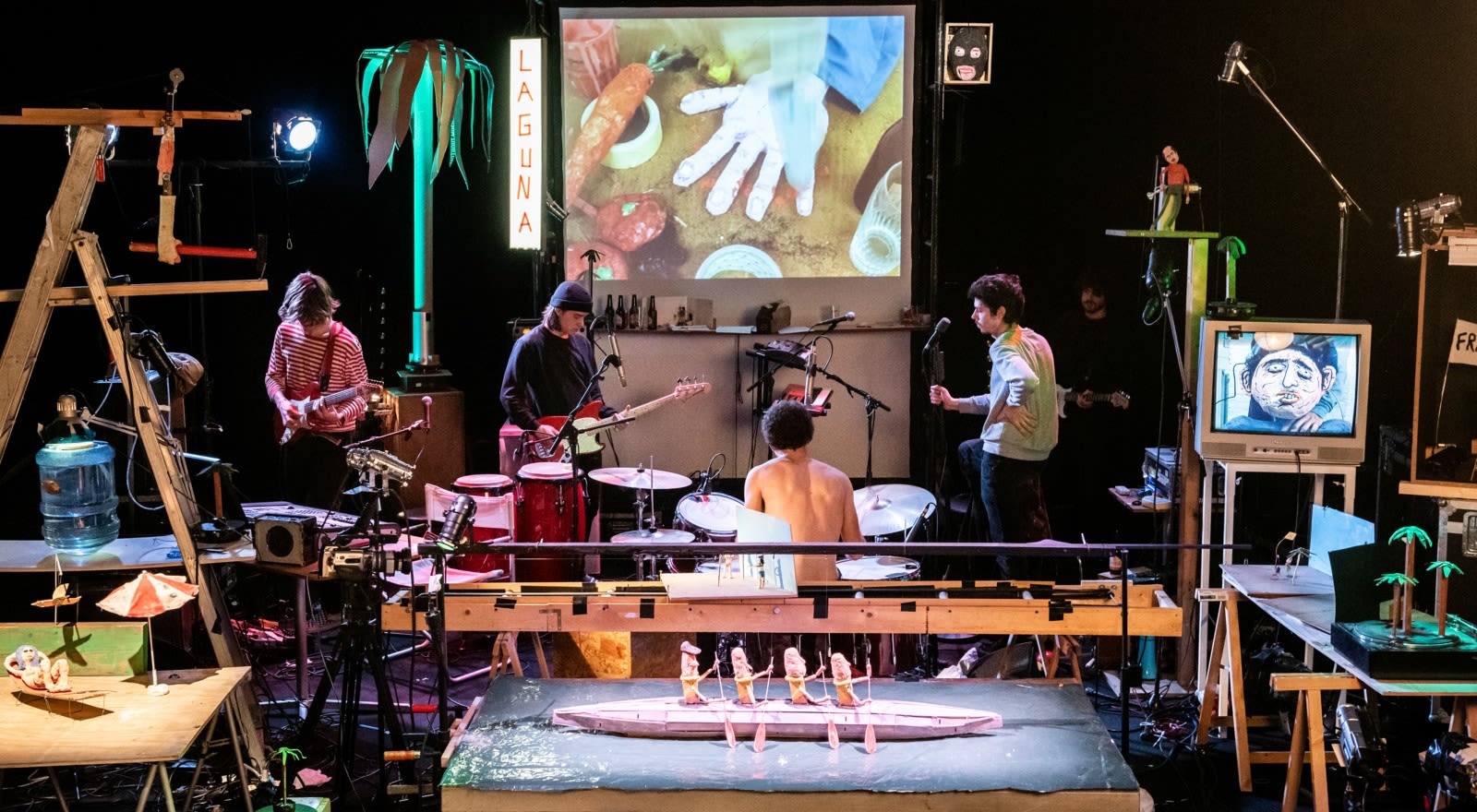 Looking for the perfect follow up to the two Saturday eve performances mentioned above? We'd like to introduce you to Frankie, a 5-piece punk puppet group from Belgium - we're over the moon that we're finally getting these guys to the UK. The show they're doing for Flatpack - Laguna Beach - is part gig, part theatre, part live art show, and it's absolutely one of a kind. Frankie's made up of animators, musicians, and set designers, and their performances are brilliant and bonkers in equal measure. Expect lude puppet action, punk beats, projections, and much more.
At times intense, unsettling, loud, and experimental, Optical Sound performances are nonetheless unlike anything you've experienced before, and that's what I love about the Optical Sound strand - this sense of seeing, hearing and experiencing something new. Something that is relatively fleeting, but that somehow stays with you long after the projectors are shutdown. I think there's a bit of magic involved in all of the performances this year, but as is often the case, you just have to come along and be there to fully appreciate these audiovisual conjurers at work.