Flatpack 6 collective memory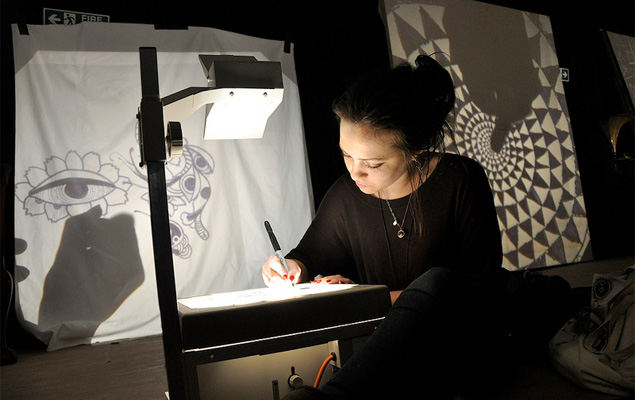 As always it's very difficult for us to be in ten places at once during the festival, but once again an army of bloggers and photographers have helped us to fill in the gaps. To kick, off a few overviews...


Little White Lies roundup: "everything from a rabid Satanist to a Lionel Ritchie mermaid";
The Quietus report: "an essential component in Birmingham's cultural life";
Eleanor McKeown is a regular ("For the past three years, Flatpack Festival has acted as my annual spring clean; a blast of inspiration that blows mental cobwebs away"), and once again she wrote an insightful report for Electric Sheep which includes the lantern show, Slow Boat, Laurel and Hardy and The Icebook;
Our own Sam Groves gave an inside view for Scene Birmingham; Amanda Grist made it to Kit Downes, The Icebook and Suzan Pitt: "a wonderful source of inspiration yet again";
James Kennedy did detailed reports on a couple of the walking tours as well as the unearthly Outer Sight Over Night;
Joe from Brainwash was around for the duration, from opening night up to Suzan Pitt on Sunday afternoon. He particularly enjoyed Alterations, which made us happy because it was one of our quieter screenings;
Claudia caught a show a day including Quadrophenia, Piccadilly and Vampire Motorcycle.


There were other writeups of Another Fine Mess on opening night by Andy Newnham, justathought and screen16;
As well as showing his own film, Edwin Rostron did a great writeup of the Suzan Pitt event, and there were also interviews with Pitt in Sight and Sound and AnOther Magazine;
Rickie Josen enjoyed Blank City and The Fairy;
After watching the Looking Glass animation programme MHVH gathered up a bundle of clips and trailers;
Cine-Vue reviewed Grandma Lo-fi and Patience (After Sebald);
Reporters on the Kit Downes show included Michele Turton and (somewhat more cryptically) vestesmonclerblog (near the bottom);
There are plenty of photos from Bring Your Own Beamer at Destroy Things Beautiful and the BYOB flickr stream;
Gif Shop artist Pieterjan Grandry documented the whole thing, and there were reports by Daniel Margetts and Tamar Whyte - who also reported on Outer Sight Over Night;
Neil Fox decided that Psychomania was "simultaneously one of the worst and best films ever";
Yarn have listed all the participants in their brilliant Citizen Kane project. Jon Bounds, Adrian Slatcher and Cormac Faulkner also blogged about their chunk of the story, and the Deadly Serious film contribution is now up on vimeo;
Bobbie Gardner took snaps at the Kismet Cafe;
James Dexter on 16mm Cartoon Rock;
Natalya Paul on Salon des Refuses;
Ross Cotton on The Uncanny World of Robert Morgan;
And finally the walking tours: Adrian Murphy explored Birmingham Noir; Matt from Clever Cherry and James Kennedy did Shaping Cinema; and Emma Morley from MACE went On Location.


If you've got anything to add please post in the comments or drop us a line.