Flatpack Asia: Hong Kong
As with a lot of good, but somewhat optimistic ideas, this one started in the pub. Prior to Flatpack 9 earlier this year, myself, Steve Chamberlain (one half of Sellotape Cinema and film/animation tutor at Birmingham City University), and Rob Sharl (also tutor at BCU) found ourselves musing over the possibility of a touring Flatpack programme in Asia, more specifically Hong Kong. Whilst the January rain and wind battered the window pane, thoughts of a warmer, more exotic climate was definitely quite appealing. But the weather wasn't the driving factor behind the concept...
During the last couple of festivals, we've been teaming up with BCU, developing a new strand called Swipeside – working with students to co-curate and co-organise. One of the great things about the partnership is that we're both looking at innovative ways we can use our varying expertise to collaborate. So with the university tutors teaching on accredited courses in places such as Hong Kong, Bangkok, and Kuala Lumpur, the idea of a trip to Asia seemed like a logical next step for us. And with an imminent teaching trip to Hong Kong for Rob and Steve - Flatpack Asia / the Pearl of the Orient – it all suddenly seemed entirely possible. Now I have to admit, prior to all of this, you could say my knowledge of Hong Kong's film culture was pretty minimal at best, but it didn't take many Google searches to discover the wealth of alternative film activity happening all over HK.
We started putting the plans in place to put on a one-off, pop-up screening, somewhere in central HK, and slightly offbeat. With the help of Liam and Sabrina (our HK/Birmingham locals), we secured our venue – Hong Kong's best known secret space, a charming and intimate bar called Sense 99. It's a little gem of a venue, and fitted the social, informal Flatpack ambiance to a T.
I began to put an eclectic programme of shorts together – a selection of the best from this year's festival, and I also got in touch with Hong Kong's enfant terrible animator Wong Ping to see if he'd be up for showing some of his colourful, strange, and slightly sordid shorts (see what I mean with Doggy Love below) as part of the event.
Wong Ping graciously agreed, and so Doggy Love, An Emo Nose, and my personal favourite Stop Peeping were added to the mix. Exciting stuff. I was intrigued as to what to expect from someone who once said in an interview: "I had a crush on a classmate. I sniffed inside her school bag and tried to lick her books."
When we've toured shorts programmes before, the screening's been part of something bigger, usually a festival, so for us to travel to a different continent and put on a one-off pop-up screening in one of the back streets in Hong Kong - well, you could be forgiven to say we weren't exactly guaranteed a huge audience. But we opened the doors, and some people walked in, and then some more people, and then some more people - and by the time we started, the room was full - a mix of ex-pats, foreign nationals, and HK locals. There was a real buzz in the place (I even got a cheer upon mentioning Birmingham in my intro – it may be a while before that happens again), and the films seemed to go down a storm (David O'Reilly's The Horse Raised by Spheres being a real favourite). Via a bit of mingling during the breaks, I got a sense that this kind of alternative venue/social short film night isn't a common occurrence in HK, and that using non-cinema spaces for film is scarcely explored throughout the city. Light bulbs began to appear above my head as thoughts of an annual Flatpack in HK crept into my mind – I started thinking about all the amazing spaces, buildings, and parks I'd seen over the previous couple of days – food for thought, for sure.
The gig definitely falls into my top three ever. Great space, enthusiastic (and very vocal) audience, and a cracking selection of films. It turned out Wong Ping is a delightful chap too!

Aside from the event itself, there were a couple of people I wanted to meet whilst out there – Kattie Fan, Director of IFVA Festival being one. IFVA is HK's longest running independent film festival - they celebrated 20 years in February. They've a lot to be celebrating too – they're doing some great stuff, championing the very best in independent Asian film and animation, but like Flatpack, they're also interested in the hybrid approach to cinema production, most notably through their CINEMA 2.0 strand (an exhibition-based arm of the festival exploring the "transmedial practice of filmmaking that aims to experiment with new creative expressions and technologies of cinema"). As Kattie talked me through the artists whose work they'd presented, and the works themselves, I liked the sound of IFVA more and more. There were names I knew, and names I didn't. It's a shame they sit in February, as unless we change our dates, it'll be difficult to get out there for the festival itself, but from what I could see, IFVA should be on most people's 'want to attend' festival lists. And for those who can't make it out to HK, there may well be some kind of cultural exchange with us at some point - watch this space.
Jump Cut was another festival I'd heard good things about – it focuses on high-quality youth filmmaking. Maria Wong who heads it came along to the Flatpack screening, and told me all about how they're cultivating an emerging group of HK filmmakers, and encouraging youth participation. All very inspiring.
As well as a few meetings, there were a number of exhibitions I wanted to check out too, including Mobile M+: Moving Images, a multi-site exhibition "inspired by the multiple connotations of the word 'moving' and the rise of diasporic cinema internationally". There was work by some familiar names including William Kentridge and Apichatpong Weerasethakul, but my highlight was Isaac Julien's Ten Thousand Waves (three screen version) – a triptych using the cockle pickers tragedy in 2004 at Morecambe Bay as its starting point, it explored Chinese history mixing myths with fiction – totally beguiling and moving. A slightly more underwhelming exhibition was the Age of Experience at the Run Run Shaw Creative Media Centre at City University of Hong Kong, but the building, designed by Daniel Libeskind was pretty amazing.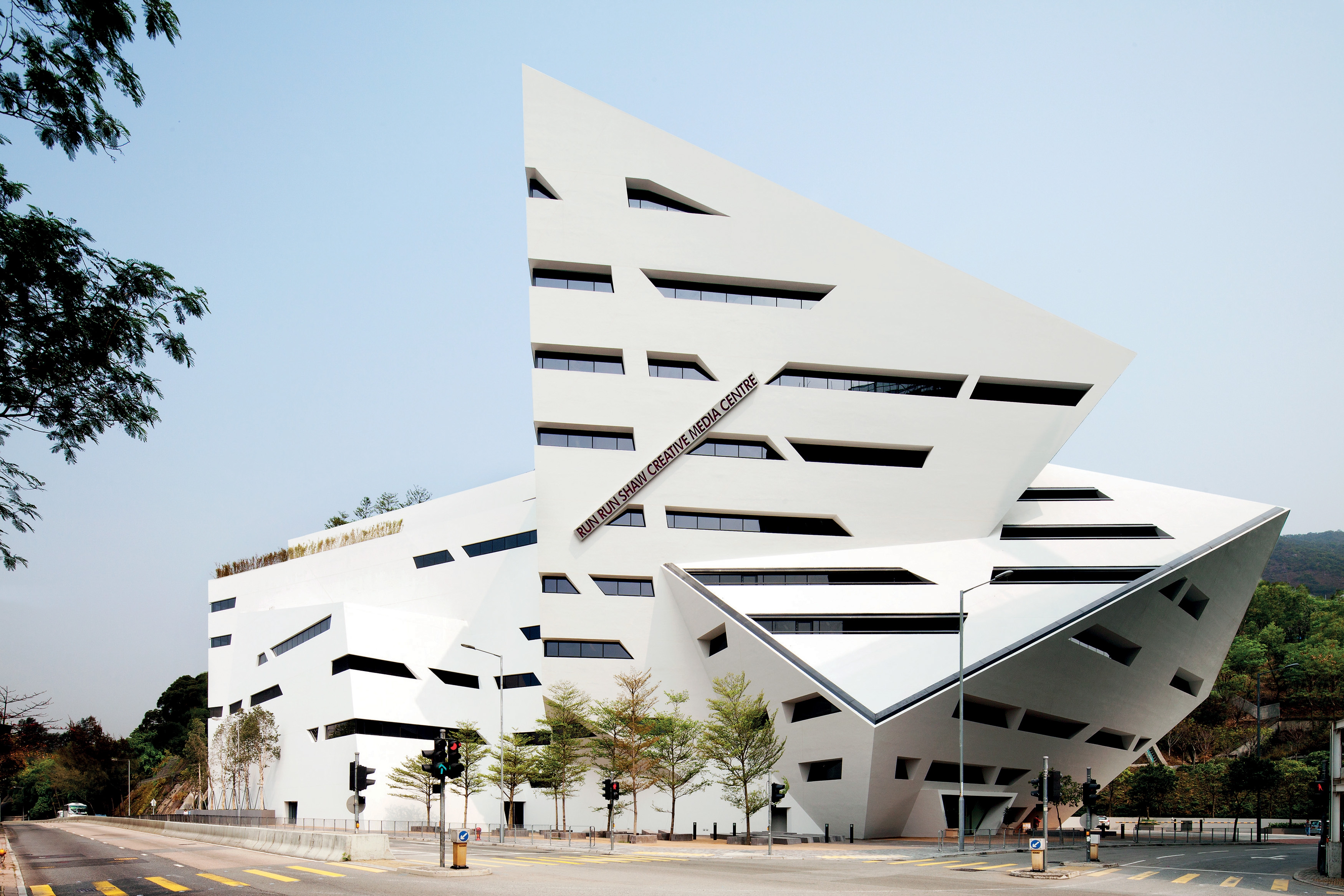 A couple of people had mentioned Broadway Cinematheque and the Kubrick Café as somewhere to check out before I left, so on my last night, Steve and I took a trip to Yau Ma Tei to see HK's premier arthouse cinema. Although we didn't actually see a film, it was obvious this place is a beacon for film in the city. The cinema has four screens, and supports a genuinely interesting programme. But it was the Kubrick Café which I was totally enamoured with. Part bookshop, part library, part café, and part gallery – it's a super cool space where people come to read and talk about film. The atmosphere was perfect – it's the type of place I'd love to see in Birmingham. I don't think I'm the only one either.
And with that, my all-too-brief excursion was over, but what an experience. A massive thank you to Birmingham City University and the BFI Film Hub for making the trip possible. Hong Kong is a fascinating place with a thriving independent film culture. Plans are afoot to make it out there again next year and build upon the foundations laid through this trip. And if that doesn't come off, there's always Flatpack Antarctica...