Ghost Streets of Balsall Heath
The mighty Brumpic asked us to write a piece about the Janet Mendelsohn project we're involved in, and we thought we'd post it up here too. The exhibition itself opens on the evening of Thursday 9 July, and runs through the weekend - see here for details.
Between Calthorpe Park and the inner ring road runs Clevedon Road and the Rea Valley cycle route. On either side is a patch of grass which I always assumed was an extension of the park. In fact, it's a relatively recent arrival. Until the 1960s, the area around Balsall Heath Road and Gooch Street was the neighbourhood's main shopping district. Furniture shops, banks, pubs, cafes, tailors, cinemas; whole streets were flattened in the 1970s as part of a redevelopment that would leave large parts of Balsall Heath unrecognisable to those who grew up there.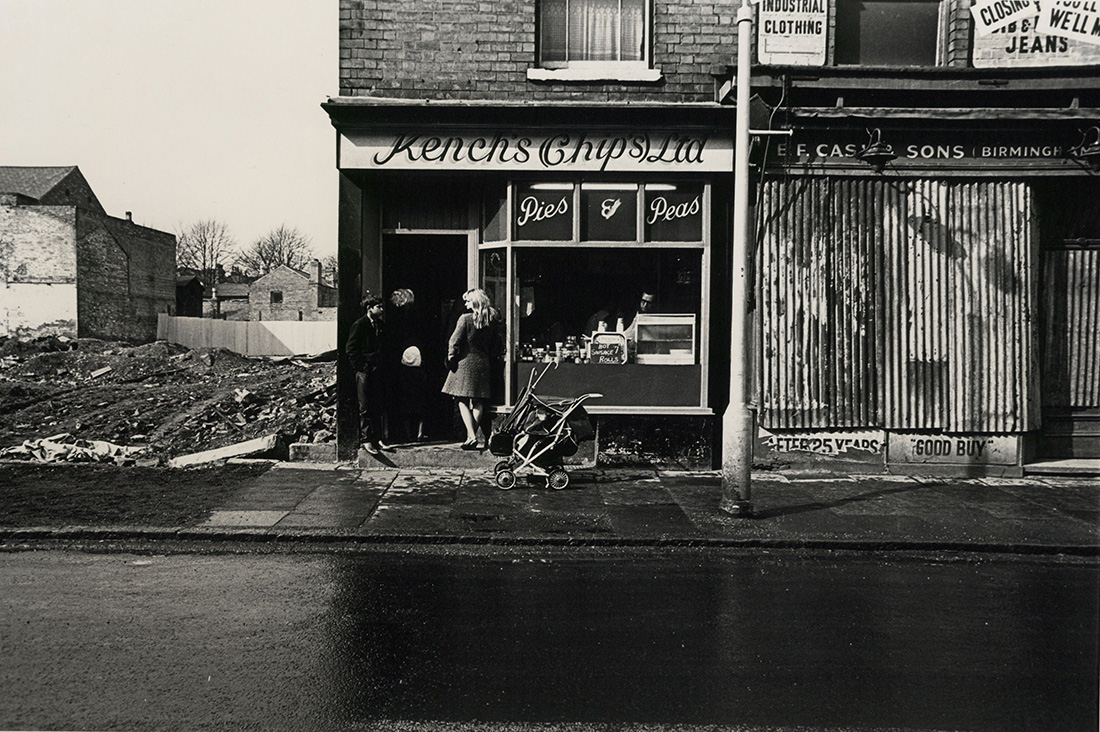 In 1968, just as the bulldozers were moving in, Janet Mendelsohn spent a lot of time on these streets with her camera. She was one of the first to enrol at Birmingham University's Centre for Contemporary Cultural Studies (CCCS), where she'd been encouraged to use photography as part of her research. The area was already no stranger to cameras, with the traveller camp up the hill well-documented and a regular stream of news reporters attracted by high levels of crime, prostitution and poverty. Nick Hedges graduated from Birmingham College of Art in the same year, and in Balsall Heath's Vincent Crescent (also since demolished) he began a photo series which would become integral to Shelter's campaign on the UK housing crisis.
Although there's plenty of deprivation and bad housing to be found in Mendelsohn's pictures, they have a very different impact to Hedges' work. People here rarely seem like abandoned victims of society; they're getting on with life, and often laughing. We go from corner-shops to churches, from front rooms to back yards. We see a beehive hairdo under construction, coal-men making deliveries in the snow, Sikh elders playing cards in the park, teenagers hanging out in the local coffee-shop. Most of all, we see children: running riot on bomb-sites; standing guard over woodpiles; skipping in the back close; firing air-guns; collecting money for the guy.
The journey these photos have taken is a story in itself. A couple of years ago, while researching the fiftieth anniversary of the CCCS, Kieran Connell came across a handful of the images in a university magazine. Eventually he tracked down Janet Mendelsohn herself, who had returned to America in the early 70s to teach at Harvard and make documentaries. On the phone she assured Kieran that there were plenty more where that came from, and within a couple of weeks he had received over 100 prints, 3000 negatives and several pages of hand-written notes.
So, after half a century hiding away in a box, Birmingham gets to see Mendelsohn's pictures – many of them for the first time. In January 2016, the prints will be shown in a major exhibition at Ikon Gallery. In the meantime, our job is to take the negatives back to the place where they were shot. Part of the cultural studies project was to look behind the news headlines, to question the media narrative. Mendelsohn achieved this by building trust with her subjects, and capturing the fabric of their lives. In revisiting her work, we too hope to tell a more complicated story about how this part of Birmingham has changed over the years, and with your help we'd like to try and trace some of those lost streets.
All images by Janet Mendelsohn, late 1960s. (Cadbury Research Library: University of Birmingham)