Misspent Youth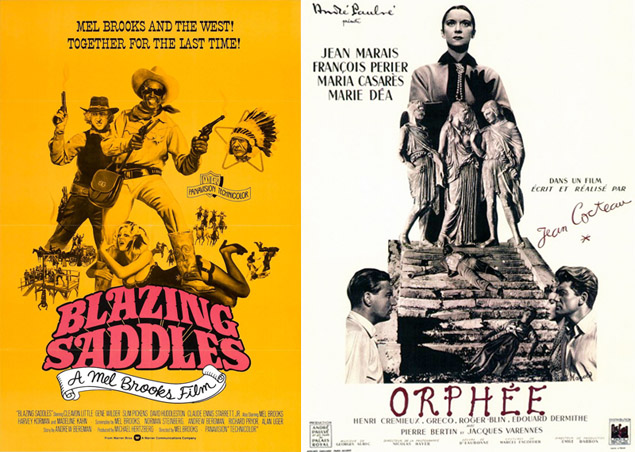 We all have film experiences that have made deep and lasting impressions. Cinema can act as a window into society and lets us enter realms often more colourful and dramatic than our own. It shapes our beliefs and understanding of ourselves and everything around us, transforming and enriching our lives with its ability to educate, entertain, and emotionally move us.
With this in mind, we asked a number of well-known faces to each nominate a film that has marked them for life to be screened as part of Misspent Youth.
Artist Cornelia Parker selected two films that deal with the concept of reality in different ways, Jean Cocteau's Orpheus and John Smith's short The Girl Chewing Gum. Of the latter Parker commented "It is his [Smith's] voiceover imbuing each frame with a subtext, that keeps me hooked; his unwitting real life subjects become part of a drama that unfolds in real time."
Comedian and writer Adil Ray chose Mel Brook's classic comedy Western  Blazing Saddles as a film that was most significant to him during his formative years. Ray, who will return to television screens soon with BBC sitcom Citizen Khan, said of Blazing Saddles : "A satirical look at Hollywood Westerns with a big dose of racial humour thrown in. I was about 8 years old when I watched this first time around. I didn't get all the jokes but must have rewound the "beans" scene about fifty times."
Joe Dunthorne (author of Submarine and Wild Abandon) decided upon David Lynch's black and white biopic The Elephant Man, stating "I was young when I first saw it. Too young to know it was black and white through choice, rather than necessity. As far as I knew, I had finally enjoyed my first old film, and I was very proud. It was also the first time that a film had made me cry."
For Bournville-born up and coming actress Felicity Jones (Like Crazy), Shakespeare's most famous tale of tragic star-crossed lovers was bought to life for her at the age of twelve by Baz Luhrmann's contemporary version of Romeo + Juliet. Jones states: "I couldn't believe how something so vibrant and electrifying and compelling could exist... a film that made Shakespeare completely relevant and intoxicating for a whole generation."
The event will hopefully encourage everyone to share memories of the movies that have made a strong impact on them, so let us know the films of your own Misspent Youth.