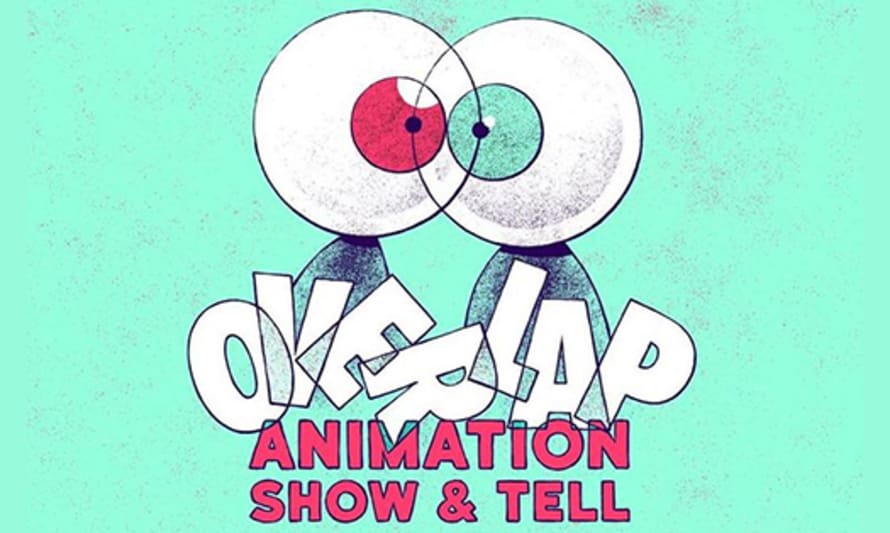 OVERLAP ANIMATION SHOW & TELL
Launched at Kongs in Birmingham early last year, Overlap Animation Show & Tell is the brainchild of award-winning animator Louis Hudson, who has quietly been building an admirable CV of animated lunacy that extends to working with the BBC, Channel 4 and Nickelodeon. We talked to Louis about the genesis of Overlap, his thoughts on the animation scene in the Midlands and the many obstacles he faced when the pandemic meant Overlap had to suddenly move online.
What did you hope to achieve with Overlap when you set it up 18 months ago?
I wanted a regular night that gave animators a reason to keep developing. There aren't many big studios around Birmingham. It's largely a cottage industry comprised of folks just getting on with it in isolation. That's really hard to crack into and I've seen loads of great talent move away or give up. Ambitiously, I wanted Overlap to do all of the following: act as a showcase, get animators an audience, be an opportunity for new and established animators and make Birmingham's creative scene more visible.
What kind of people attend/watch Overlap events - is it a mix of animators and people looking for more experimental animated fare?
Yeah, both. The name 'Overlap' comes from the animation term, but it also refers to overlapping interests, personalities and skills coming together. It's been really satisfying seeing people at their first animation night having a great time. It adds to the honest feedback that a live audience gives to a filmmaker. If a joke doesn't land or a plot point is confusing, you find out straight away and that just makes you a better filmmaker.
Are there any criteria for submissions, or will you consider screening pretty much anything?
If it's interesting, entertaining and well-made, we'll show it. Animations from as short as 1 second can be submitted. We tend not to show commercial work unless it's special, as the focus of the night is more personal. We're also a safe space for everyone, including smut. If there's something a bit sensitive, I ask people to keep an open mind, but it's usually well-received, particularly as the filmmaker has introduced it.
You get a lot of up-and-coming online animators involved with Overlap. Is that through the contacts you've built up whilst promoting your own work?
Most of the headline guests have been people I've got to know over the last ten years of being around as an animator, but most of the animators who have shown work at Overlap were completely unknown to me. When I started Overlap, I worried whether that was enough to fill a night every three months. But I keep finding incredible talent, particularly people who actually represent how diverse Birmingham is. The prevalence of white men in animation can be a turn off, so I hope I'm helping to change that.
How have you found doing online events since the pandemic hit?
A complete and utter nightmare. I spent a month in lockdown mushing together tech and software from Twitch streamer tutorials. I had to present, operate all the controls and monitor the streams all at the same time from a loft above where my four month old daughter was sleeping. Live streaming is a copyright minefield. Background music and a few of the videos caused copyright takedowns, so I had to shift to Twitch at the very last minute. After being up all night testing, something still went wrong and the sound wasn't getting out. I was devastated, but a nice thing happened - everyone started bonding around the bonfire that was my flailing. We rescheduled for the next week, and by then I'd created a fool-proof launch sequence. The night went really well in the end, but it was three hours long and everyone was shattered by the end of it!
Your home since you started has been Kongs bar in Birmingham, which is now permanently closed. How did you feel when you heard it wouldn't be reopening?
I felt really sad. Also angry at how greedy landlords are in town. It was the perfect space for what we needed. Free. Super central. Wheelchair accessible. Screen and music already set up. Mood lighting. Central stage area and a bar in the same room. With a bit of work, it felt like a brutalist cabaret bar. I immediately started looking for somewhere else. There are some maybes, but I don't know what venue can tick as many boxes. If any venue managers are reading, I'm happy to plan for 2021!
The next Overlap night takes place online on 9 Dec. Deadline for submissions is 7 Dec.
UPDATE: We're happy to report that Louis got in touch to confirm a new Overlap venue - Norton's on Meriden St, Digbeth, complete with a great indoor and outdoor space. All fingers crossed for a real life gathering in December...
This interview featured in the latest edition of Filmwire, a roundup of film happenings in the middle of the country sent direct to your inbox. Sign up for the Filmwire newsletter.