Phono-Cinéma-Théâtre
Judith Mackrell, the Guardian's Dance critic has written a wonderful piece on Phono-Cinéma-Théâtre, a collection of films from the great Paris exhibition of 1900 which have been restored, giving an insight into the performers and performances of the time. We will be showing the UK premiere at the Barber Institute of Fine Arts. It's well worth a read.
Here's a couple of the beautiful hand-tinted images with some background information about the performers involved.
[caption id="attachment_5925" align="alignnone" width="572"]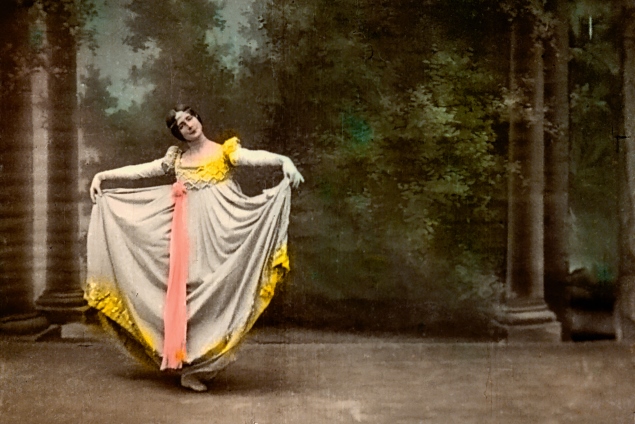 CLÉO DE MÉRODE (1875-1966)
French dancer renowned for her glamour as much as her dancing, in particular a hairstyle which became the talk of Paris at the turn of the century. De Mérode carefully cultivated her own brand, ubiquitous on postcards, biscuit tins and cigarette packets, and it has been argued that she was the most photographed woman in the world around the time she appeared in Phono-Cinema-Theatre. One of the first elite ballet dancers to perform at the Folies Bergère, rumours of turbulent love affairs persisted throughout her life - including encounters with King Leopold II and Gustav Klimt.[/caption]
[caption id="attachment_6548" align="alignnone" width="571"]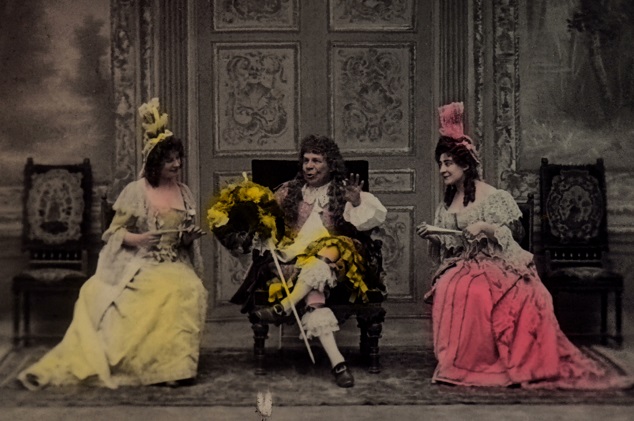 BENOÎT-CONSTANT COQUELIN (1841-1909)
Versatile, exuberant French actor who joined the Comédie-Française at a young age and played the lead in over forty plays across a twenty-year period, including The Barber of Seville and Tartuffe. In 1900 he toured America as Cyrano de Bergerac (opposite Sarah Bernhardt), and then returned to play both Cyrano and Moliere's Les Precieuses Ridicules (pictured) for the cameras of the Phono-Cinema-Theatre.[/caption]
[caption id="attachment_5924" align="alignnone" width="533"]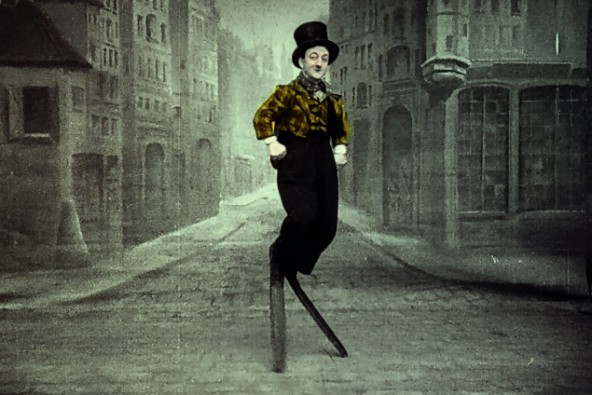 LITTLE TICH (1867-1928, born Harry Relph) as a boy played tin whistle, appeared as a burnt-cork comedian and worked with "The Juvenile Christy Minstrels". His stage name was adopted from a then notorious false inheritance claim, the Tichborne case (the claimant was a notably large and stout man). He made his first solo London appearance at the Foresters' Music Hall in 1884, still in blackface, but already developing his unique routine of the big boots, longer than his own diminutive height. Little Tich created a wide variety of song characters, including The Gas Inspector, The Park Inspector, The Ballerina, The Sergeant Major, The Lamplighter and The Spanish Senorita, which he also filmed for Phono-Cinéma-Théâtre.[/caption]
Phono-Cinéma-Théâtre will take place on Sunday 23 March with live  by a live trio led by pianist and arranger John Sweeney. It is presented in partnership with the Barber Institute and the University of Birmingham's Cultural Engagement team.
The Phono-Cinéma-Théâtre restoration is a joint project undertaken by the Cinémathèque Française and Gaumont Pathé Archives.
All images © Cinémathèque Française and Gaumont Pathé Archives.