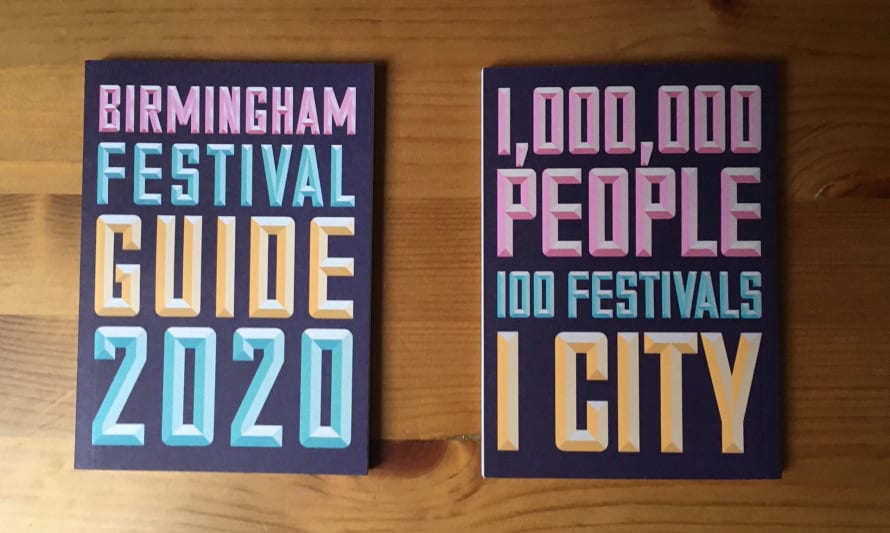 When We Build Again
As we inch closer to the end of a year which might have gone better, I am just about able to look at a publication which we put together way back in the early, halcyon days of 2020. The idea was to gather every single festival happening in Birmingham this year, a pocket listings guide which would take you on a journey across neighbourhoods and artforms, from dragon boat racing and street food to podcasting and ethical porn.
As you know, most of this did not happen. To flick through the guide now is to realise how much the landscape has changed since the pandemic hit, and to marvel at our own innocence as we busily plotted all of these events. The guide has become a weird relic, and it will be a while before we can dream of festivals with the same confidence. These events play a big part in Birmingham's rich tapestry though, and knowing the passion of those who organise them I am hopeful that many will be back before long.
Along with 100+ festivals the guide also featured some of our favourite parks and walks, places to eat and drink, music venues, museums and so on. Like much of what we do at Flatpack, it was a love song to our city and the things that make it special. The parks and walks are of course booming at the moment, but as we (sort of) emerge from lockdown many of the cafes, bars and restaurants face an uncertain future. I feel pretty powerless about this, but the main point of this post was really just to send these places all our love. Going without you has only made us appreciate you more.
Throughout the year Independent Birmingham have done a great job flying the flag for these businesses, and this blogpost is a useful rundown of the places currently offering takeaway, delivery or collection services. Do support them if you can.