Stereoscopic Saturday night hijinks.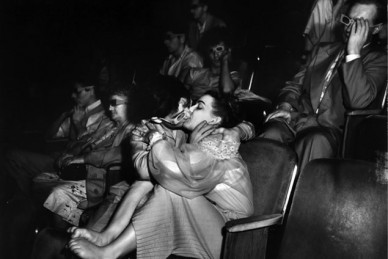 In the long and dishonourable tradition of Flatpack Saturday nights (see Plasticine and Paper parties passim), the Palais becomes home to a stereoscopic shindig tonight. Expect great music, visuals from the third dimension, red/blue beverages and plenty to occupy idle hands. Entry to the 3D party also gets you into the Custard Factory theatre, which tonight plays host to a unique performance…
Film Ficciones presents: THE MASK 3D (a.k.a. Eyes of Hell) 1961 Canada, Dir. Julian Roffman Special presentation of this cult classic psychological horror trip, featuring a newly created live music score by Film Ficciones & Nick Sales (Pram, BlissBody, Project DARK, Bow Gamelan Orchestra) for the film's famously bizarre, Jungian 3D sequences.
After a young archaeologist, haunted by weird nightmares and believing he may have committed murder, kills himself, his psychiatrist receives a strange Aztec mask from his former patient - and a letter warning him of it's power to reveal a person's deepest, darkest desires….
The first 30 people through the door will be given a special 3D Mystic Mask Viewer, a facsimile of the original giveaway from the film's initial release. The first 50 will receive a special commemorative booklet with original art, extensive programme notes and background material on the film. On display will be various publicity materials including posters, lobby cards and rare storyboards (by none other than Len Lye!).
"Put the mask on now….."
Nearby
After this
Similar