Catching up with Usaginingen
Once the festival's done and dusted, there's always the inevitable question about highlights, and this year, a fair few spring to mind, but there's one performance which really stands out. Japanese duo, Usaginingen (Shin and Emi Hirai) came and performed their AV show in the UK for the very first time at Flatpack in March, followed by gigs in Bristol and London. They were a joy to behold.
I caught up with them recently to ask them about their time in the UK, and their new show Anonymous Trip which combines their distinctive AV spectacle with a troupe of dancers.
SG: You have a completely unique way of creating sounds and visuals, using analogue processes. The end result is totally dazzling. Can you tell us a bit about the contraptions you use to create the AV: the Taco and the Shibaki?
SH: The Visual machine "TA-CO" has a camera, kind of like an animation table with layers, a rotating drum, water-basins, colored ink, beads, mirrors, prisms, hand-crafts, and lots more. The Music machine "SHIBAKI" is some kind of percussion kit, connected to an original MIDI controller and also connected to a string instrument.
SG: Were you inspired by someone who had played them, or are you the creators of these special audio-visual instruments?
SH: We've seen some nice audiovisual performances but we've never seen anyone perform in the same style as us. We follow our imaginations.
SG: So much consideration goes into the sounds working in sync with the images, can you tell us a bit about your process and how you and Emi work together - does the music come first, and then visuals developed afterwards or the other way round?
SH: First off, we make a concept. Then we start to make each of our works separately, but concurrently, and then we bring them together to make them fit. Then it's all about the detailing as we try to arrange and improve the total balance. Having been together almost ten years and having worked together for six, we really know each others tastes which makes the whole thing quite smooth.
SG: In terms of your influences - which artists, filmmakers, performers, and musicians whose work you admire, have had the biggest impact on Usaginingen?
SH: The Soviet film director Sergei Parajanov, Canadian artist Andy Dixon, and the Japanese theatre company, Ishinha. But the biggest influence on us is nature.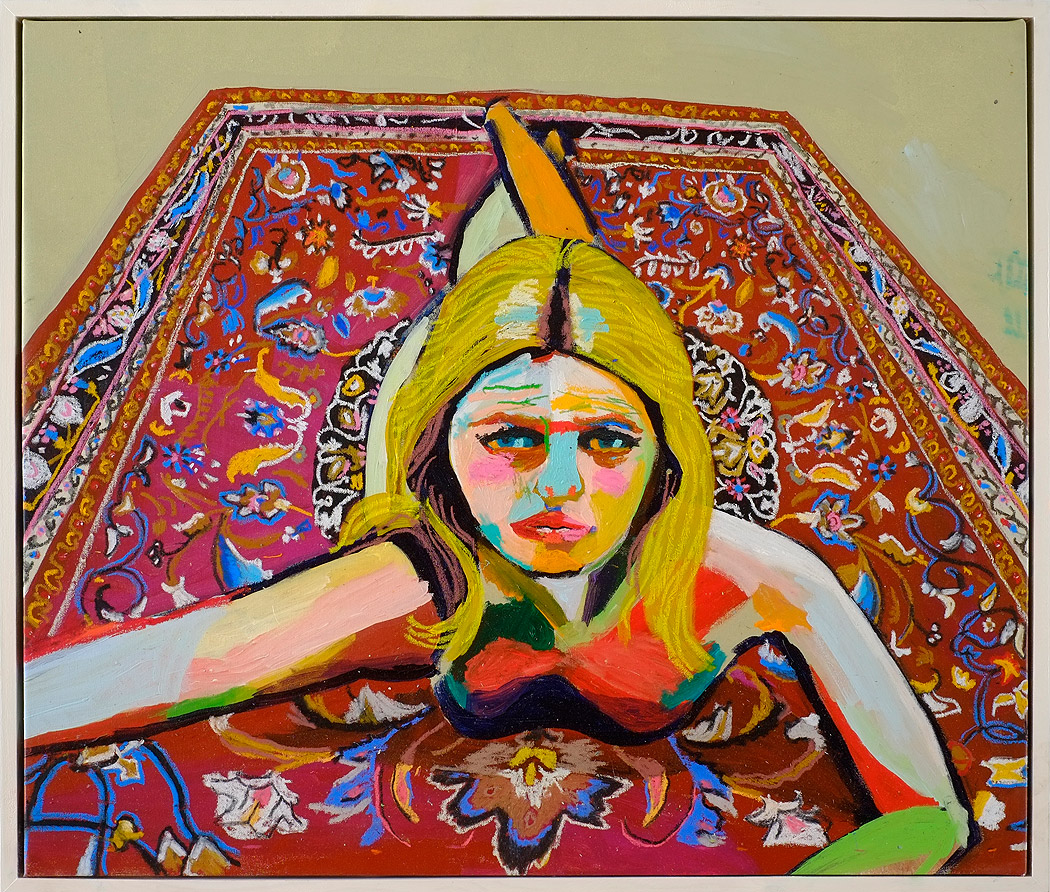 Woman on Rug, 2013 - Andy Dixon
SG: You recently played in the UK for the first time - how was your time here? And did you find playing to a British audience a different experience in any way?
SH: Our first time in UK was a complete joy. The British audience gave us more detailed impressions than other countries, which we admired.
SG: Can you tell us a little about your recent show Anonymous Trip? And how the project working with dancers came about?
SH: The theme of the story is 'who am I?'. Time tripping, space and culture. It's a collaboration [and the first time we've worked] with dancers, and it has gone very well since all of us are doing a physical performance instead of using complex technology. We always think about how we can make an atmosphere in the whole space, trying to jump out from the 2D screen. For this show we could feel the 3D through their dancing and for some parts we didn't need to play music or create visuals, we just let them take over, and this is something which we intend to pursue in our future works.
SG: Do you have any further plans to work with other performers? Or to delve into the realm of narrative storytelling as well as more abstract experiences?
SH: We are planning to collaborate with the same dancers. We are also making a new work which is a bit more narrative-lead than previous shows, but it will still have an abstract expression.
SG: Usaginingen translates as "Rabbit Man", which is a great name - what is the significance of it?
SH: Our mascot character (see below) looks like a rabbit; it has a human mind and a flower for an eye. Our creations respect animals, humans and nature.
SG: What's on the horizon for you over the next year? And do you have any more trips to the UK planned?
SH: We've been in Berlin for 6 years and have had many shows in Europe thankfully. However, we'd like to perform not only in Europe, but in Asia, South America and so on. So we may well move back to Japan, but we plan to come to the UK (and Europe) once a year with new work, for sure.