68 Book extract: The Double Zero Club
Over the next few weeks we're sharing some some of the stories from This Way to the Revolution, our book on late 60s Birmingham. To begin with, an unlikely biker club that started life in a Digbeth church...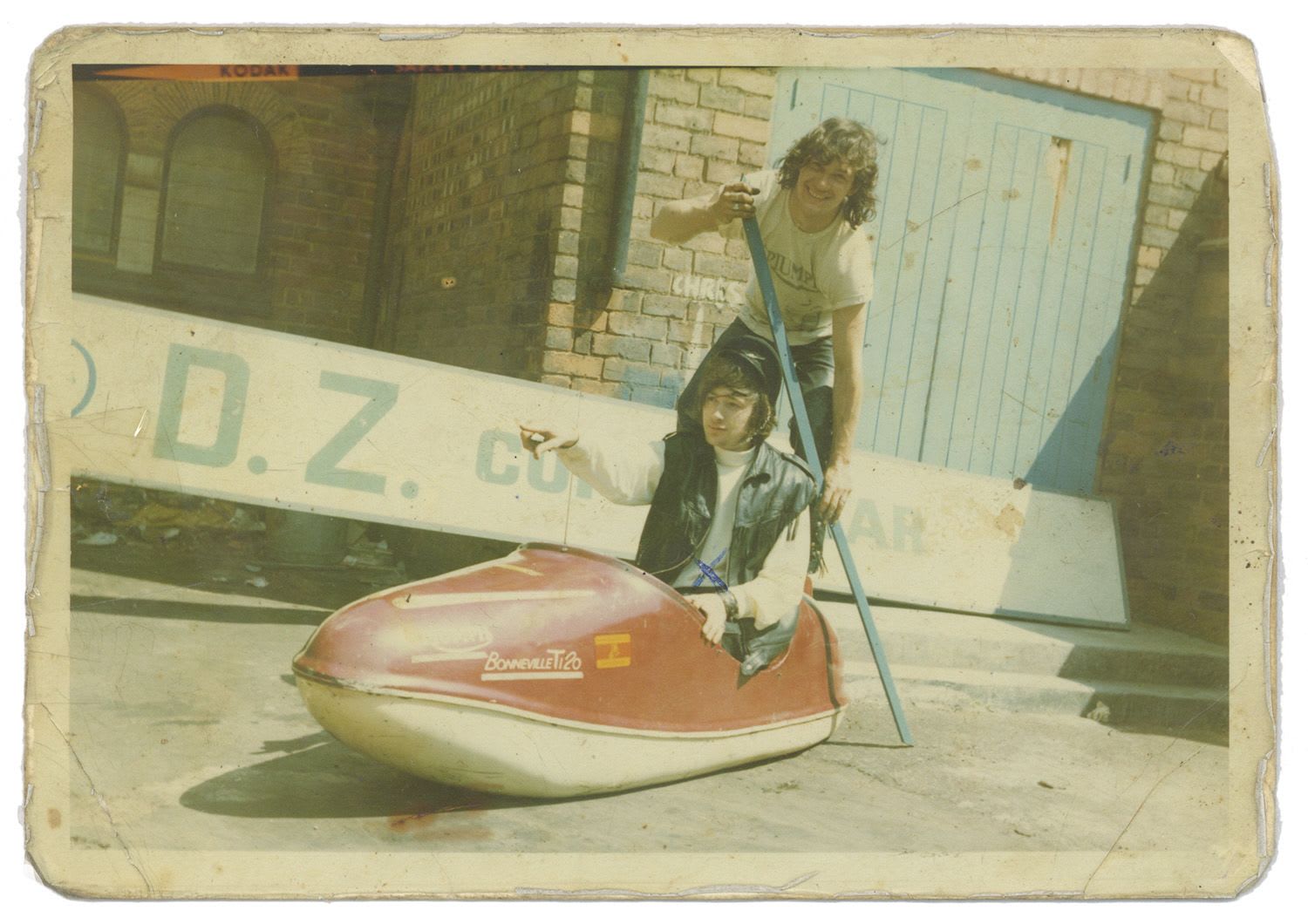 "It was like being reborn. What's this world that's around me? It's hard to describe... It's like if you were living in a jungle and somebody blindfolded you and then brought you into the centre of Birmingham, in rush hour and cars and bikes and buses and thousands of people and shops and food and clothes and you didn't have nothing like that in the jungle, you'd think you were either dead and in heaven or what? It was a whole new world as far as I'm concerned and that's it." - Ray Fox (pictured above, 'rowing' in 1969)
Birmingham's oldest district, Digbeth sits just south of the city centre. Dominated by the Bordesley Viaduct with various car-yards, nightclubs and creative businesses nestled under the arches below, you can also find the occasional manufacturing firm and corner pub bearing witness to the area's past as a buzzing industrial quarter. By the 1960s most of Digbeth's cramped, dilapidated back-to-back housing had been demolished, with a tiny residential population left behind and the local parish church looking increasingly isolated. In 1965 there was talk of closing down St Basil's for good, until an unlikely youthwork project came along and transformed it into the focal point of the biker scene.
David Collyer had grown up on the south coast, and learnt self-sufficiency from an early age. After leaving school at 16 he made a living as a bin-man and play-worker, before securing a place at Oxford and then going on to train as a vicar at Cambridge. During his time there he got involved in a community centre catering to local Teddy Boys, and became interested in the growing field of work with 'the unattached' - young people who for whatever reason were not engaged with traditional youth clubs. Because his mother was unmarried Collyer had to wait for special dispensation before being ordained ("I didn't quite belong, and I wasn't quite normal"), and then moved to Birmingham to take up his first post as deacon in the parish of Perry Beeches. 
The Bishop of Birmingham at that time was Leonard Wilson, a survivor of torture in a Japanese prisoner of war camp and well known for his progressive outlook - he was an early supporter of women's ordination, and reform of the homosexuality act. He created for Collyer the role of Chaplain for the Unattached, a form of "free-range clergy" that gave him the latitude to work with a range of youth subcultures across the city. After a fairly fruitless period hanging out with beatniks in Chamberlain Square, the 'Swinging Vicar' began to explore the fringes of the city's growing Rocker scene, particularly outside the legendary Alex's Pie Stall where you could find over a hundred motorbikes parked on a typical Saturday night. The majority of these bikes were still produced locally by the likes of BSA and Triumph, many of their riders working in factories and chafing against parental values forged by war.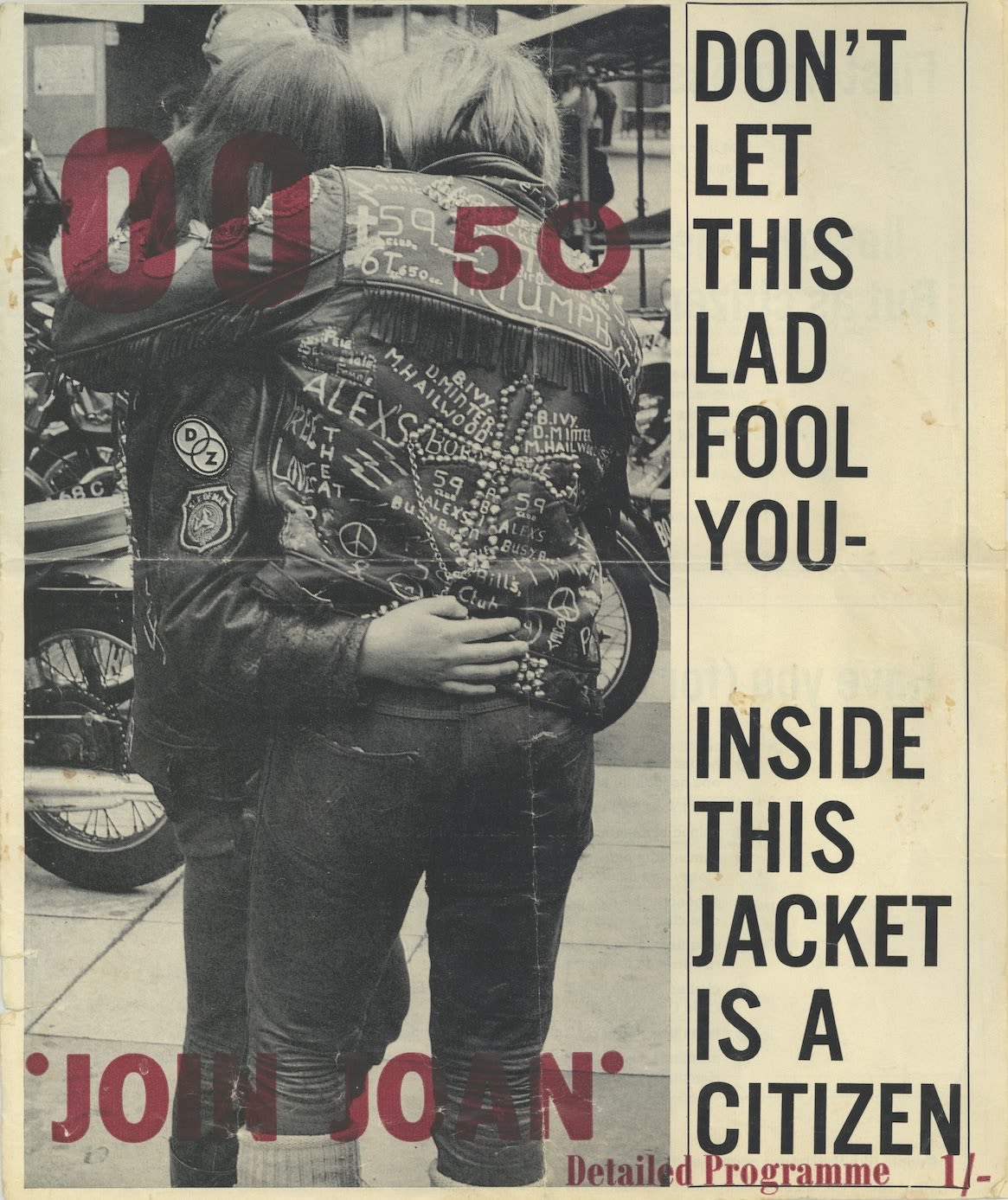 1967 fundraising leaflet (courtesy of Ray O'Connell)
Seen as grubby wasters, bringers of noise, fumes and aggro, there were very few places where the Rockers could gather apart from Alex's and a handful of biker cafes. Having gained some trust through terrifying induction rituals riding pillion at a hundred miles an hour, Collyer's conversation with the group quickly turned to the subject of finding somewhere to hang out. Bishop Wilson offered St Basil's as a stop-gap solution, and by the end of 1965 a delegation of leather boys was refitting the church as a biker coffee bar. This was not completely virgin territory for the Church - the Reverend Bill Shergold at the 59 Club in east London had opened a motorbike section in 1962 - but it was still a hefty gamble on Wilson's part. At one of the first meetings the group had to decide on a name, and settled on the Double Zero - "because we're worth less than nothing."
As with the 59 Club, evangelism was not on the menu - Collyer's aim was to stay in the background, with the members dictating direction. A series of reports written for potential donors help to paint a picture of the club's growth, from the initial vanguard of 14 to 300 members by the time of the official opening in spring 1966, up to a thousand by the following February with a similar number of non-members stopping in each week. For Ray Fox, involved from the early days, it was "a safe haven - music, birds, noise, mucking about with your bikes, talking bikes, sleeping bikes." Barbara Haywood was a member and a regular coffee-bar volunteer who recalls a "vibrant atmosphere... in the '60s, for women to go on their own somewhere was a bigger issue than today, but I would go on my own knowing there would be people in there that I knew."
Visitors would find bikes filling the alleyway alongside the church and the small car park out back, while inside was the main cafe area lined with pinball machines and a jukebox, along with a workshop, a lounge area where somebody was generally crashed out asleep and a gym space for letting off steam. There was a fairly busy activity programme, but what members really valued about the DZ was the lack of structure and authority - the second report cheerfully states that "the club and the coffee bar have survived the first three months without a single rule." On the other hand it offered the sense of an anchor for young people with often turbulent lives, while growing up in a city that was changing on a daily basis. Collyer remembers: "The bulldozers were going through like crazy... It meant that people who lived back to back in communities were dispersed to Castle Vale and Chelmsley Wood where they weren't happy... People weren't ready for it and I think that's one of the genuine reasons that we did see a number of people back in Deritend - it was familiar stamping ground."
The alleyway at St Basils, featured on the cover of the 59 Club's Link magazine in 1967.
Part of the Double Zero's agenda was to connect members with the wider world in order to improve their public image and their employment prospects, through a range of schemes including sponsored walks, links with local businesses, civil defence volunteering and a dispatch rider service delivering blood and drugs to hospitals across the city. Some of this was rooted in the vicar's instinct for a good media gimmick: "Having been warned off publicity, I sought it." Describing the local press and television as his "first real support group", Collyer used eye-catching images - biker weddings, the juxtaposition of leather and dog-collar - to generate column inches and support his fundraising drive.
There are frequent references to financial struggles in the DZ reports, and not just because they were written to solicit donations. In the summer of 1966 the bishop had to make a personal loan of £500 to keep the place afloat, and the following year a series of raids on the coffee-bar till led to a significant trading loss. Around this time the fundraising did begin to bear fruit though, allowing for a refurbishment of the main hall and expansion of the car park, while the stream of visitors to 'Dave's zoo' continued to grow. The Double Zero had become a case-study, an object of fascination for civic dignitaries, overseas youth-workers, media personalities and academics. One of the latter was Paul Willis, who arrived at the Centre for Contemporary Cultural Studies in the autumn of 1968 and was immediately electrified by the university occupation. His ethnographic work focussed on bikers and hippies, and included research sessions where Double Zero members would play records and talk about their lives. The resulting PhD dissertation, which became the book Profane Culture, gives a darker picture of the scene than the official media narrative allows.
Death is a recurring theme in the conversations, and not just in the abstract - these young people were well used to losing friends in horrific accidents. In August 1967 alone the internal report records four member fatalities. "Practically every week you were going to a funeral" recalls Ray Fox, who felt that part of this death-wish was a hangover from the war: "There weren't no enemy apart from hitting the tarmac. It never appealed to me - if I was going to die, I wanted to die in bed with a cigarette in one hand and whatever in the other hand." Vietnam, assassinations, riots and the atomic threat also helped to fuel a broader darkness at work in the zeitgeist, spawning the likes of Black Sabbath and reflected in biker culture through the rise of the Hell's Angels. The Angels posed an existential threat to the Double Zero - violent, nihilistic, and unlikely to participate in five-a-side or sponsored walks. "I suppose it was a familiar situation," Collyer reflected shortly afterwards, "of a new generation turning up to destroy what the previous one had built."
The rest of the DZ story - along with many others - features in This Way to the Revolution, available from our shop. You can also hear from some former members and David Collyer himself in this Birmingham 68 podcast, and the Media Archive for Central England have shared some 1968 footage of the club online.
A group of DZ members reunited at Digbeth's Mutt Motorcycles including Barbara Haywood, second from left, and Ray Fox, third from left. (Image: David Rowan, 2018)