Notes from Nairn
Still recovering from our marathon drive home, with stop-off in Morecambe for Lancastrian tapas (?). Beyond the jump is a brief writeup of our Ballerina Ballroom experience...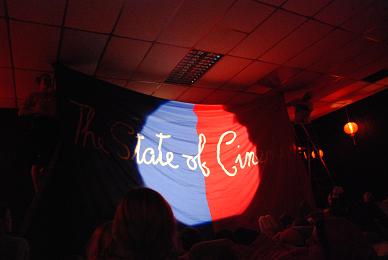 A slightly toxic combination of research trip and family holiday took us eight hours north of Birmingham last week, to a town on the Moray Firth called Nairn. Once big on fishing, it's now fairly big on tourism thanks to its dolphins and 'balmy micro-climate'. It has bored teenagers and sprightly old ladies aplenty, and it is Tilda Swinton's hometown. This probably wasn't a big deal when she was in Orlando and Derek Jarman films but since Swinton dallied with DiCaprio in The Beach (did that really happen?) and became the White Witch, Nairn (now aka Nairnia) is more aware of the famous lady in its midst. Particularly since she rented the former ballroom/bingo-hall in the high street and started a film festival. 
Visiting other folks' festivals is an excellent way to prepare for your own. You can wince at the cockups and clangers, vowing never to repeat them while plagiarising any good ideas. In the case of Ballerina Ballroom, the affinities with what we do down here were numerous and heartening. The notion of cinema as a dream-space was shot through the whole thing in an entirely unclunky way, a desire to recreate that palace of wonders that many of us discovered as kids. Much has been made of the decor, the cakes and lanterns and beanbags,  but just as important was the little pre-screening ritual with spotlight, theme tune (a different song for each film), masterful fire safety announcements and Swinton and her co-programmer Mark Cousins up step-ladders with their 'State of Cinema' banner. They did this for every single screening. More avid festival-goers - less distracted by kids and dolphin-hunting - may have been heartily sick of all this by the end of the week, but it was hard even for grumpy cynics like myself not to get swept along by the cult-like joy of it all. Sometimes the films jarred with the format; caramel slice and 'Love is in the Air', followed by three hours of Glasgow grimness courtesy of Bill Douglas' childhood trilogy. But that was part of the point. The audience was expected to work for its cake.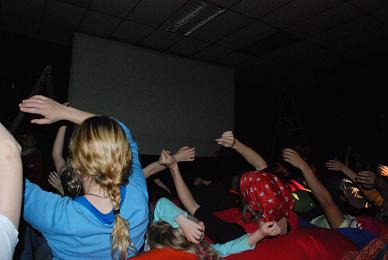 So who was the audience? A really strange mixture. Thanks to the bookshop next door pre-selling tickets, a strong contingent of sprightly local ladies (not so many teenagers) alongside holidaying families and film/media types who had jetted in from all over the shop. The casual abundance of star names was clearly a factor in attracting these blow-ins and all the national coverage that came with them - but it's also an idea that people are ready for, and the festival was very good at managing the balance between these very different crowds. (I could've sworn I saw Ewen Bremner jumping the queue though...) My own big-name highlight was meeting Sylvain Chomet (Belleville Rendezvous), who flattered us by saying he'd heard of Flatpack and also tipped us off to an episode of Rex the Runt in which Rex wins the city of Birmingham. Must track this down. Like the best festivals BBCD was also a fascinating window on the place in which it happened, epitomised by the matinee show of award-winning animated short Madame Tutli-Putli. It was introduced by Jason Walker, who was born in Nairn and moved to Canada where he produced the film's unnerving visual effects. His mum had worked as a bingo-caller in the very spot where he stood, and he dedicated the screening to her.
At the same screening we saw a short by Swinton and Cousins which described the genesis of the whole thing (great to be sprawled in our spangly pleasuredome and see it onscreen as a shell a few months previously) and also making the political thrust of their endeavour a little clearer. The spectre of the multiplex cast a chill shadow. Cousins talked darkly of totting up the number of opportunities to see Pirates of the Caribbean in Edinburgh in one day (54), and it was nice to reflect that studio dollar (in the form of Swinton's wages) had enabled the BBCD to raise its banner.
What really worked for me was the attention to detail, the programmers' willingness to put on a a good show and be there on the night rather than just scheduling product. The most commmon question I get asked at events is 'so do you make films then?'. This is probably because choosing films seems like a bit of a non-job - and maybe programmers should be invisible, not standing on stepladders waving their hands in the air. But this visibility gets a conversation going. After The Fearless Vampire Killers I talked to a Nairnite who had spent the weeks beforehand painting walls and sewing beanbags. He said that that the whole experience had got locals talking about the kind of films they might put on themselves, a sure sign that the Ballerina has done its job. As Swinton says, "Anyone can do this. All you need is some DVDs and a space." Before Vampire Killers longtime Flatpack friend Matt Hulse (Audible Picture Show, Harrachov) premiered his new short, a taster for a proposed feature called Dummy Jim (on which, more shortly). The film's tagline - "A good example is like a bell that calls many to church" - would fit the festival itself just as well.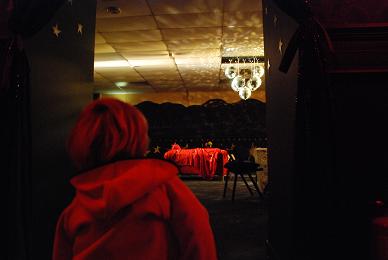 PS -- a big thank you to Festival Coordinator Matt Lloyd, and to Carolyn for babysitting.