Outfest Fusion
I've been obsessed with movies ever since I was a kid and always dreamed of going to tinseltown. Thanks to Flatpack & Film Hub Midlands I was able to tick that off my bucket list this year with a trip to Outfest Fusion, a QTBIPOC film festival in West Hollywood.
Fellow programmer and former Flatpacker, Rico Johnson-Sinclair, is currently part of a cohort of curators taking part in a fellowship programme for Outfest Fusion, an offshoot of Outfest LA. I joined Rico on the trip to check out the festival, to learn more about the fellowship programme and to meet some of the filmmakers supported by Outfest as part of their commitment to showcasing local talent.
Established in 1982, Outfest is a Queer arts, media, and entertainment organisation offering programs designed to increase access, diversity and visibility for storytellers and audiences alike. It's not about entertainment, it's about empowerment. What began as a Queer film festival has become a movement. After 40 years of bringing LGBTQIA+ stories to regional, then national, and now global audiences, Outfest is a force for change in the world.
Outfest Fusion is a more recent (and welcome) addition to the festival's portfolio. Each year a programme featuring the work of today's leading, and emerging, QTBIPOC artists and storytellers is curated and exhibited across some of LA's most unique cultural centres, which in 2023 included the historic TCL Chinese Theatre on Hollywood Boulevard. Festival attendees are treated to a programme packed with shorts and features, free community workshops, industry masterclasses, live music showcases and a special family day catering for all ages.
The mission of Fusion is to not only amplify queer voices and stories, but to provide resources specific to supporting closing the systemic access gap for the LGBTQIA+ communities of colour around the world.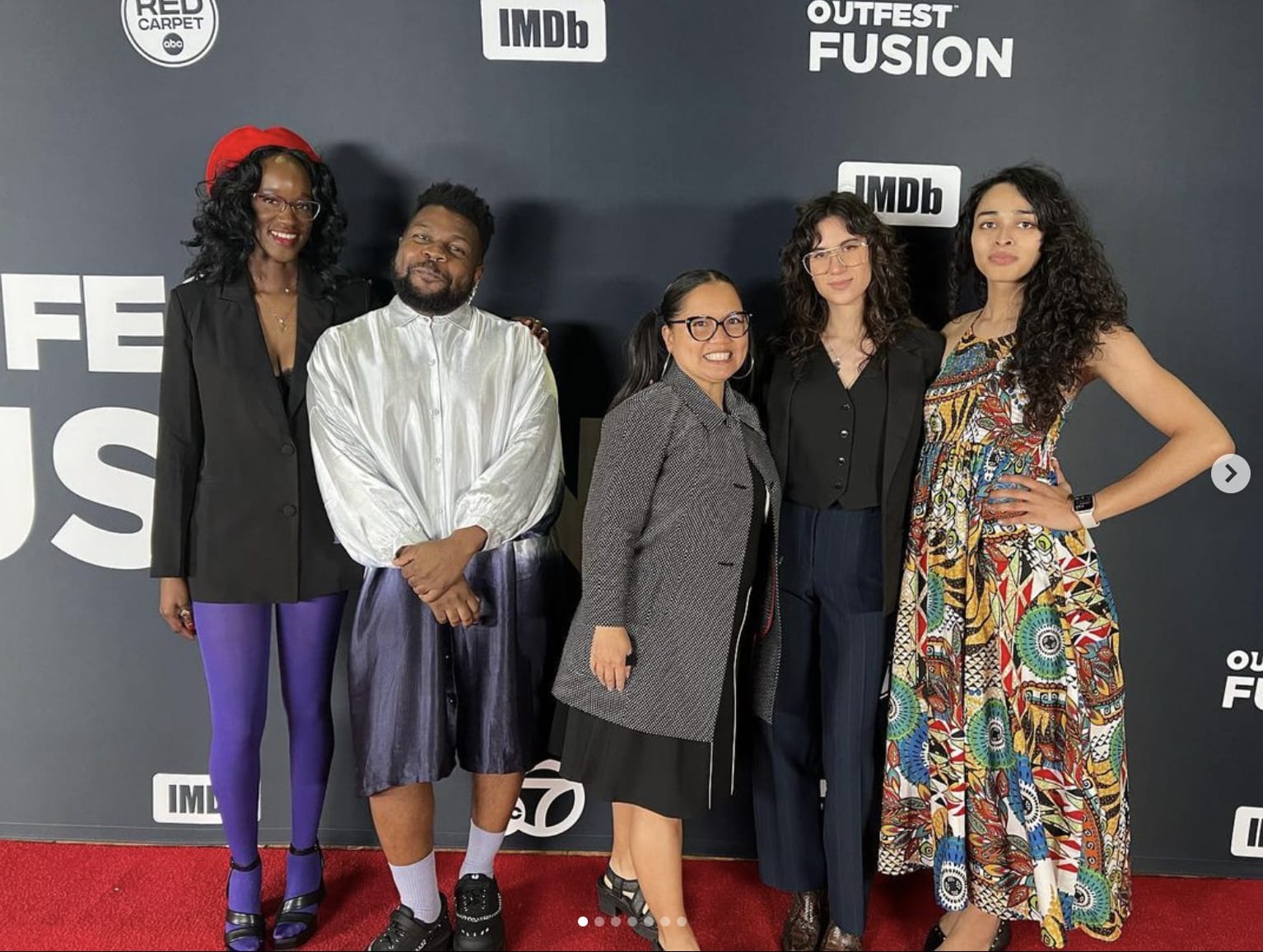 Amidst the festival mayhem I was fortunate enough to grab some face time with two of the fellows, Rico Johnson-Sinclair and Irene Soriano, to talk about their experience of the fellowship programme, the festival's growing audiences and plans for the future.
Tell me how you came to be involved in the fellowship programme?
Irene: Since 1998 I had volunteered in local film festivals in LA, putting in the time and working as a screener or volunteer programmer. After completing a Film Programming Fellowship in 2003 with Film Independent through their Project Involve Mentorship Program, I wanted to pursue a career in programming. However, I needed a job with more stability and benefits so I set that aside and worked an admin job at UCLA for 24 years. I still did film programming when I could as an independent film curator on nights and weekends. After the pandemic, I promised to focus on more creative pursuits and saw the opportunity online and applied!
You've almost doubled your audience since 2022 (which peaked at 13,000 attendees for in person and online events), what is the secret to your success?
Rico: I think the pandemic had a lot to do with audience engagement last year, both good and bad. We saw an increase in online audiences and a decrease in the number of people attending live events which is totally understandable. This year we put more focus on local filmmaking talent from in and around LA as we wanted to get that local buy-in and it definitely worked. We have seen an increase in local audiences, I don't have all the data yet, but one of the things we tried was pairing local shorts with our features programme and we have found that the filmmakers, cast, crew, friends and family have come out in force to support and celebrate them, which is great and has meant that some of our features have benefited from a whole new audience that perhaps wouldn't otherwise have seen the film. Feedback overall has been extremely positive and it is something we'll definitely look to do again in the future.
What's your favourite thing about Outfest?
Irene: Meeting the filmmakers. When you plod through hundreds of short films and features, you read a lot of director's statements, press materials, etc. but only really get to know who these people are once you meet them at the festival. I love artists, meeting creative minds, and spectacular storytellers - Outfest makes that happen for me.
Outfest is more than just a festival, tell me about some of its other activities?
Rico: Outfest's reach is huge and spans production, exhibition, talent development etc. It is ever expanding and this year saw the first ever journalism fellowship programme which sought to create opportunities for LGBTQIA+ writers and critics of colour to work with reputable film/news outlets. Opportunities such as this are vital to ensure diverse representation across all facets of the industry and I'm excited to see what comes next.
What are the plans for next year?
Rico: One of the things that I really appreciate about Outfest Fusion is its commitment to new voices. The fellowship programme is designed to ensure that there's a regular turnover of new programmers entering the space so you're not getting those same voices over and over again. I'm not 100% sure what the plan is for next year yet as we're still in the evaluation stage but I hope to be involved in a mentoring capacity whilst making way for others to join the programming team.
Back to the festival mayhem...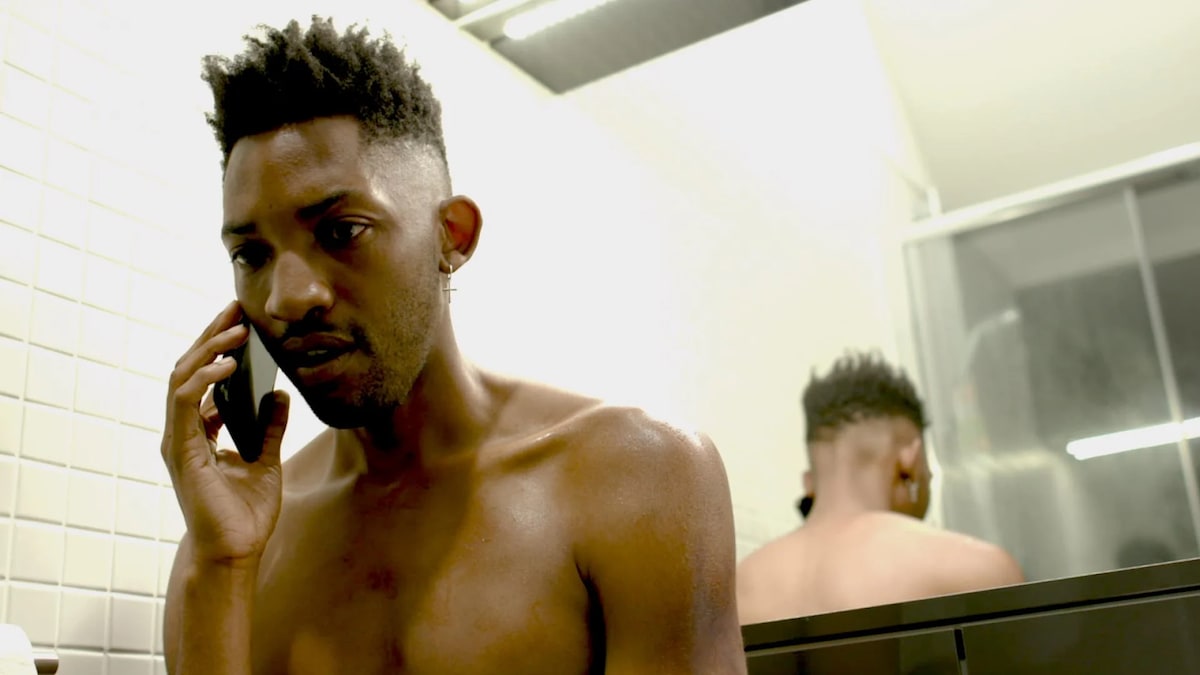 My Highlights
Average Daydream - featuring 9 light-hearted shorts in an exploration of mind, body and spirit. This programme featured the premiere of Coming, a surreal but relatable tale of social and sexual anxiety as a woman and her talking vagina get ready for a date and Headdress, a comedy that seeks to find the perfect insult when a Queer Native Person at a music festival sees a Non-Native person wearing a ceremonial headdress.
Soft - the tender coming of age feature debut by Canadian filmmaker Joseph Armenta. Using a cast of non-actors, Soft perfectly captures adolescent friendship as we follow Queer best friends Tony, Julian and Otis as they prepare to start their summer adventures untethered by school or parental control. The performances are electric and so natural. I don't think any of the actors missed a beat in bringing their characters to life. The acting and cinematography lead to what feels more like an immersive experience than a film - I would love to bring it to Flatpack Festival in the future!
Hard Truths - featuring 6 short films that placed characters in extreme and precarious situations where they navigate an upside-down world to push forward narratives of survival, making real the promising futures within their reach. The programme featured the hard-hitting film Heritage about a teenager who finds strength in his indigenous Ecuadorian identity, which ultimately anchors him when life-altering truths are revealed about his sexuality, and the powerful Prey, Rico Johnson-Sinclair's directorial debut, dealing with the dynamics of power, class, race and privilege against the gritty backdrop of hook-up and chemsex culture.
It's fair to say that I've returned from LA bursting with ideas and inspiration from programming and talent development to sponsorship and fundraising. Often large scale festivals can feel intimidating but I felt so welcomed and included at Fusion. The team has created a safe space for audiences to come together and celebrate a diverse range of films and filmmakers and I'll definitely be back again next year. Thanks to Team Fusion, I had a blast!