VILE WORMS
After the great success of our Early Worm walking tours at Flatpack Festival 2018, Ben Waddington reflects on his research into the connections between the leafy 60s suburbs of Solihull and Fathers of industrial music Spydeee Gasmantell and Genesis P-Orridge.
It must have been a surprise to the citizens of Hull, having been awarded City of Culture status in 2017, that their leading cultural export of the 20th century had been the work of performance art collective Coum Transmissions. It's always interesting what rises to the surface when you give your city's culture a shake.
The giant retrospective may never have happened had the individual members met in the more obvious location of London, where there would have been an established performance art scene. Beginning in Hull made the group special: something about the Northern nightclub tradition of sharpening your wits in the deep end.
Surveying the Coum Transmissions retrospective, it is apparent that they were keen archivists of themselves from the earliest days… seemingly every flier, poster, photo carefully stored in anticipation of its future relevance. Your art may well be appreciated if you are prepared to wait… in Coum's case it was over four decades.
One aspect seemed to be missing. The early years of key Coum pranksters Genesis P-Orridge and Spydeee Gasmantell (together known as Worm) had been in Solihull and that despite being brought up in a suburban middle class environment and educated at a strict military public school, the period had yielded many performance art pieces, precinct pranks and scrapes with the law. The experience gave them a keen awareness about how to manipulate the media…and indeed how this might work the other way.
The exhibition was a celebration of Hull rather than Solihull - but I was keen to learn the early stories of who did what where, and what prompted their actions and interests. I hadn't seen the subject covered in any depth and I thought it would make an excellent (if somewhat niche) guided tour. On the face of it, prosperous suburban Solihull seemed like an unlikely origin for Throbbing Gristle and the birth of industrial music. Was there a darker undercurrent to Solihull that my research would reveal?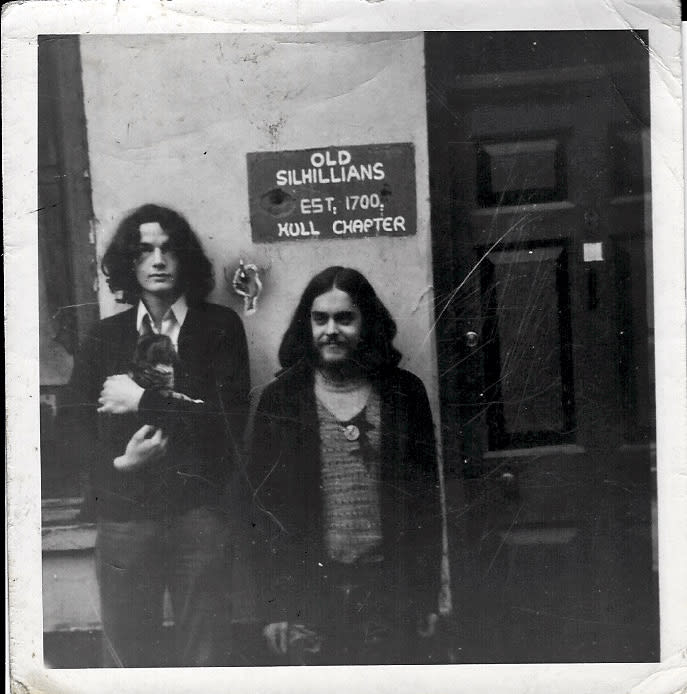 At this point, it is worth me declaring my own interests. A teenage visit to the lending library in Denton, Manchester in 1985 yielded my first music beyond Top of the Pops, and my first taste of TG and Psychic TV. The timing was right for a teenage adventurer to reach out for new horizons: I didn't know exactly what I was hearing, how I felt about it or even whether it was good or bad. The music seemed to be both those polarities at once. The legacy of that teenage lighting flash was to endure well into adulthood.
Back at the City of Culture launch party, wine flowed freely to facilitate conversation. The waiting staff seemed reluctant to tolerate any empty space in 300 wine glasses. Some hours into the evening, I spotted Genesis on a sofa near the exit and thought: who better to talk to about the early years of all that was unfolding than Genesis?
It turned out that the answer to this question was not Genesis.
Gen was wholly supportive of the venture and ready to help fill in the gaps. Solihull memories were still keen, if not always fond. With Gen on board, I managed to recruit Spydeee as a fellow rememberer. It would be Spydeee who would provide the key info, especially as it later emerged that Genesis was suffering from a terminal illness. From Spydeee came a desire to not so much set the record straight (so much work) but a desire that it should be acknowledged that Gen tended to 'misremember' key events and claim credit for others' work. Through regular conversation, it would emerge that key influences in the early days (Velvet Underground, William Burroughs, Beatnik counterculture and the local mods' snappy dressing) were originally sourced by Spydeee and then later absorbed by Gen.
My research method was old school. I communicated regularly with Spydeee by post. The action of writing in longhand informed the quality of inquiry, the intervals between questions allowing thoughtful responses and for long dormant memories to bubble to the surface. Spydeee would also unearth photos and collages from the era. All invaluable material for my walk but it became apparent that the wealth of material could form the basis of a publication. We agreed it should be in the form of a scrapbook - or zine - based around the letters we'd exchanged and would take the name of the Solihull School pupils' own publication from c1968: Conscience.
The walk underwent several name change before settling on Early Worm: First Steps of Spydeee and Genesis. Rejected suggestions included: Silhill Sausages and Dark Mash (you need to read the zine), Genesis' D-Orridge and the suggestive -NEAL Before Genesis.
The walk itself sold out instantly: Birmingham has its own chapter of avid industrial fans. It was always conceived as a guided tour led by myself but naturally Spydeee was curious who might turn up - would anyone? - and suggested he attended undercover. Instantly the dynamic shifted. I felt it would be a lost opportunity not to include Spydeee as the surprise element and we devised a way to incorporate him into the narrative. As the walking group recreated Worm's rendering of Satanic symbols (in coloured chalk) on the local park shelter, Spydeee acted the part of an enraged Solihull citizen disgusted at our purported cultural reenactment, before I revealed the ploy. Later I misidentified Spydeee's childhood home in the sprawling Sillhillian suburbs and once again, Spydeee's presence was critical.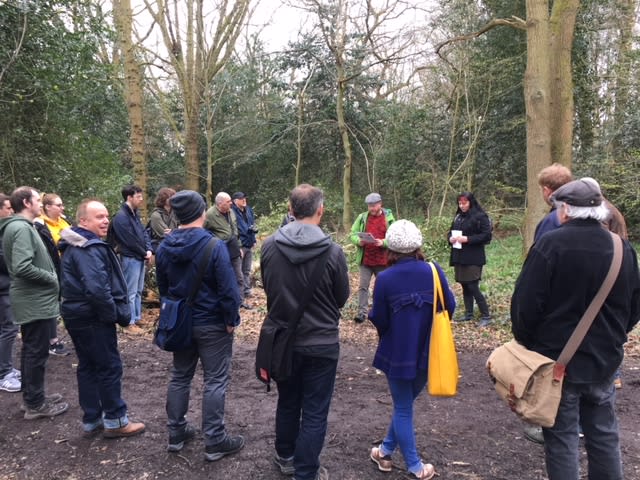 Spydeee would drop out of Coum Transmissions a few years before Tory MP Nicholas Fairburn famously called the collective 'wreckers of civilisation', in a discussion in Parliament on publicly funded art. But in that reputation-sealing diatribe, he also defamed the members as 'vile worms'. In light of the MP's subsequent downfall and the rise of Coum and Throbbing Gristle, I'm borrowing his evocative epithet for the title of this blog post.
Copies of the zine are available directly from Spydeee at www.darkmash.com
Ben Waddington is the director of Still Walking - the festival of guided tours and walking events www.stillwalking.org
Written in contribution to Birmingham 68, an ongoing research project into the culturally significant changes and events happening in the city around 1968. Supported by the Heritage Lottery Fund, the project has enlisted the help of a dedicated group of local historians to produce a series of blog posts, podcasts and a final publication due to be released in early 2019.