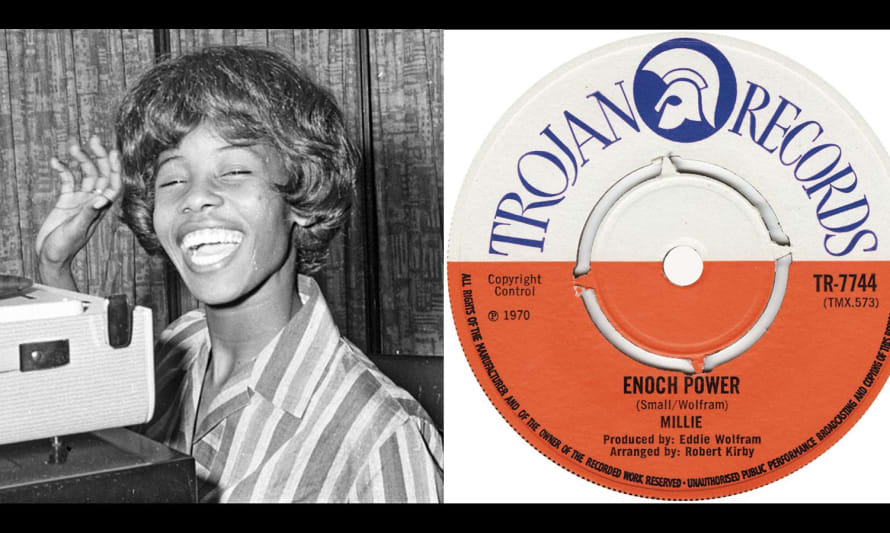 68 Book Extract: Enoch Power
Following the sad news of Millie Small's death today, we've decided to share the interview she did with us last year. It was a brief but joyous conversation about her 1970 B-side Enoch Power - aimed at a certain Wolverhampton MP - and it may well have been her last interview. Millie was on brilliant form that day, and it was a horrible shock to hear of her passing. Her influence in bringing reggae and ska to a wider audience was enormous.
In the years following 'Rivers of Blood', there was a spate of reggae tunes directed at the man who gave the speech. A few months later Laurel Aitken recorded Run Powell Run: "We don't want no hostility, we're just begging you for equality." In its wake came latin-themed number The Bull by Freddie Notes and the Rudies - with Freddie cast as the matador, and Powell as the bull - and then Enoch Daughter, a lewd reverie set in a Birmingham motel which appeared as a white-label by Lloyd Coxsone. Perhaps the most life-affirming of the bunch is Enoch Power by Millie Small, which appropriates the politician's name for an anthem about unity.
Small is still best known for her break-out bluebeat hit My Boy Lollipop, released in 1964 shortly after she came to the UK as a Jamaican teen sensation. In the early 1970s the singer stopped recording and performing altogether and has given very few interviews since. Thanks to some dogged detective work by one of our volunteers Edward Jackson - and maybe because she was delighted to be asked about something other than Lollipop - we were able to set up a short phone conversation with Millie Small about the story behind Enoch Power.
The singer came from humble origins in Clarendon, Jamaica, the daughter of a plantation overseer and one of twelve kids. Winning a Kingston talent contest gave her a first taste of fame, and once she had relocated to London Island Records head Chris Blackwell began grooming her for stardom. One of her first overseas gigs was in Birmingham in 1963, a place which still holds fond memories for her: "It had a nice mix of people - Indian, Chinese, West Indian and all of that. It's a nice little spot." After My Boy Lollipop went to number 2 in the UK and USA things would never be the same again, an international success which offered a first taste of Caribbean music for many listeners and paved the way for countless other ska and reggae musicians. Small released a wide array of singles and EPs in the years that followed, but nothing that would match that early explosion.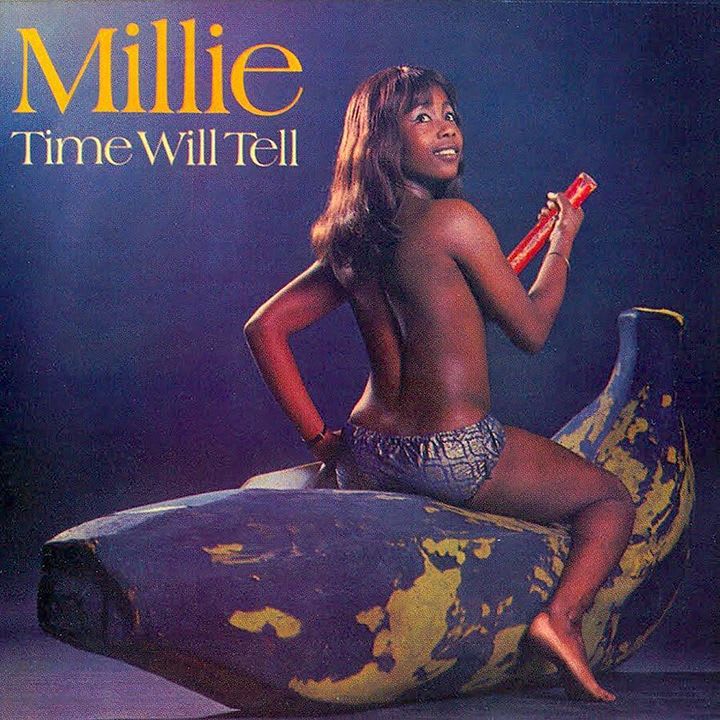 Recorded in 1970 for Trojan Records, Time Will Tell marked a change of direction from the 'girl next door' Millie with a cover photo which featured her skimpily dressed and straddling a massive banana. The contents, however, were far more thoughtful than the packaging suggested: "Time Will Tell is the best thing I've done - a damn good album" believes the singer. Produced by German painter Eddie Wolfram, her partner at the time, and garnished with strings by Nick Drake's arranger Robert Kirby, the first single was a cover of Drake's melancholy Mayfair which Trojan paired with the more upbeat Enoch Power.
"It was supposed to be called Enough Power," remembers Small, "but my manager suggested I use Enoch Power." Imagining a multicultural West Midlands dancefloor, perhaps inspired by those early 60s gigs, the lyrics are a wry riposte to Powell's apocalyptic rhetoric. It resonated strongly with black audiences at the time, and Small was asked to sing it at Wembley stadium in 1970 as part of the landmark Caribbean Music Festival. Filmmaker Horace Ove included the performance in his documentary Reggae, cutting it together with footage of Powell's speech.
Soon afterwards Small called time on her music career to focus on motherhood, painting and a quieter life. A few years later she had an unexpected encounter in Sloane Square. "I was going to collect my daughter from school, and I saw this man walking towards me - he's about five foot something. I looked at him and he looked at me, and it was Enoch Powell. He looked very, very sad, and I felt sorry for him. He was burning up inside, under all this pressure of hate in him." When I ask her about parallels between 'Rivers of Blood' and Brexit, she is having none of it: "England is much, much better now than when I came here first. I wouldn't live anywhere else my love."
I arrived from Kingston Town
And now live at the Bull Ring
Got to go to Wolverhampton
Help my brothers do a thing
They work all week
To keep the British country running
Weekend it's reggae time
And the neighbours find it funny
So we all sing

Enoch, Enoch, Enoch Power, Lord, Lord
Enoch, Enoch, Enoch Power
Enoch, Enoch, Enoch Power, Lord, Lord
Enoch, Enoch, Enoch Power

The kids all stomp their boots so much
The dance floor's really shaking
They're having fun then going Dutch
I feel my poor heart aching, so we all sing:

Enoch, Enoch, Enoch Power, Lord, Lord...

Lyrics from 'Enoch Power' (Small & Wolfram - Trojan Records, 1970)
This is an extract from This Way to the Revolution, our book on late 60s Birmingham which is available via the Flatpack shop.