Flatpack Guide to: Documentary
Documentaries are a massive part of the Flatpack experience, and this year there are 15 to choose from that traverse time and space, teeming with provocations, questions and insights covering an enormous range of subjects. Where to start? 
MUsic docs
We begin our journey on home turf, (well, close enough) in Nottingham with the Sleaford Mods. The veritable "voice of the people", the duo's self-described "electronic munt minimalist punk-hop rants for the working class" rapidly brought them industry recognition, and filmmaker Christine Franz follows them along the way in the gloriously named and highly entertaining Bunch of Kunst. Christine, who studied at Aston University, will be joining us for a Q&A after the film. Thursday 8 April at 20:00 - 22:30 at The Electric Cinema.
Leaving Nottingham and onwards to Ethiopia, and it's not the first time Flatpack have visited there. If any of you had the pleasure of catching Crumbs at last year's festival, the sound engineer behind its realisation is the filmmaker for New Voices in an Old Flower, a gorgeous ethnographic sound-portrait of Addis Ababa's contemporary music scenes. Expect reggae, hip hop, free-jazz and much more. Saturday 8 April at 20:15 - 21:45 at the BMI John Lee Theatre.
Ethiopia's just the starting point. Fonko flings you all over the African continent, right into the heart of the diversity of its music scenes with urgency and flair. A mobilising and riotous documentary from the creators of the Black Power Mixtape - and narrated by Neneh Cherry. Saturday 8 April at 18:00 - 19:30 at the BMI John Lee Theatre.
In Homelands we join forces with Birmingham-based Punch Records on a jaunt around four parts of the globe. This four-part documentary takes you to Senegal, Dominica, Jamaica and Suriname to ask the pertinent question: how is creativity shaped by our roots? In an ode to the diaspora communities living in and shaping the city of Birmingham, the four featured musicians return to their home countries on a journey of personal discovery and a quest for influences in music and culture. Taking place at the mac on Wednesday 5 April from 7:45 pm - 9:30.
tech: synths, electronics, tapes, & travelling projectionists
In this section we depart from the present and look to the past to find out how we got here.
In Cassette: A Documentary Mixtape we meet the inventor of the beloved format and look at how, like vinyl, its seen a resurgence in the age of digital downloads. Featuring appearances from Henry Rollins, Thurston Moore and before the film a vintage slide-tape, twin lens projector for you to play with. Screening on Friday 7 April, 2017 at 20:15 - 21:50 at the BMI John Lee Theatre.
Dug out from the BBC archive and featuring Daphne Oram, Tristram Cary, Karlheinz Stockhausen and synth engineer Peter Zinovieff, this fascinating documentary was originally broadcast in August 1969. The Same Trade as Mozart is essential viewing for electronic musicians, historians of modern and contemporary music technology and appreciators of a legacy that defined experimental music composition. This rarely screened film will be followed by a demo of Mini Oramics by the PhD student on a mission to complete Daphne Oram's unfinished project.
In lieu of a trailer, here's an example of Daphne Oram's futuristic sounds.
Now for something rather different. A window on to a vanishing world in The Cinema Travellers, where roaming projectionists in rural India struggle to stay afloat amidst changes in technology and viewing habits. This beautiful and heartfelt documentary is screening at The Electric Cinema on Sunday 9 April 18:30 - 20:15.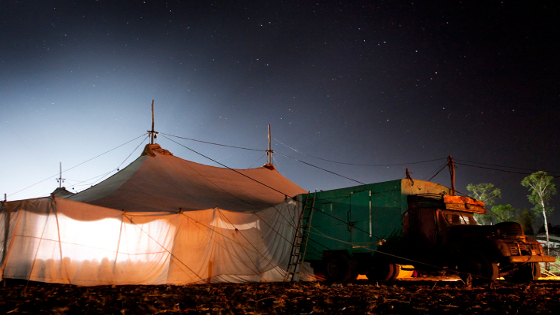 in the urban sprawl: geographic & political docs
Activists and psychogeographers populate this section, with a celebrating look to how Jane Jacobs fought for people over profit in Greenwich Village's post-war urban planning. Citizen Jane: Battle for the City will awaken reconsidered ways of seeing our own cities, and screens at the Everyman on Sunday 9 April from 13:00 - 14:45.
Taking a more philosophical approach, we follow writer and urban rambler Iain Sinclair on his 35 mile stretch of the London Overground. This documentary provides an intelligent and insightful image of the city that Sinclair has continually been inspired by, showing us how London's geography forces its inhabitants to navigate its perils and pleasures on a daily basis. Director John Rogers, whose other documentaries includes the playful Make Your Own Damn Art, will join us after the screening, happening at The Victoria on Sunday 9 April at 15:30 - 17:30.
food, waste & solutions
For those of you concerned about looming environmental catastrophe, we've lined up two documentaries that present some of the problems of food waste and resource exploitation, and offer potential solutions.
Just Eat It dives head-first into the reality of the food industry, where it's estimated that 40% of grown produce is doomed to the earth's giant landfills before it even sees a consumer. The filmmakers ask why, and challenge themselves to live off discarded food for a year in an effort to highlight this growing issue. Screening at the Flatpack Hub on a pay-as-you-feel basis, this compelling documentary will be complemented by 'Freegan' advocates The Junk Food Cafe who'll prepare a delicious meal made entirely from edible supermarket rejects. Turn up at 19:30 on Thursday 6 April.
Bugs takes you all over the world to investigate insects as an alternative means of sustenance, visceral and compelling viewing that poses some daring questions and hopes to have you salivating by the end. Luckily, Birmingham's culinary tour-de-force The Wilderness will be on hand to provide an appropriately themed dinner. This is one of our highlight screenings and not to be missed at the historic Grand Hotel on Wednesday 5 April at 20:00 - 22:30.
Portraits
Now for an intimate look at the individuals dotted around our programme.
First up, we take a heart-warming and endearing look at the life of Bruno Bozzetto, creator of the cartoon charater Signor Rossi and animator of many satirical, witty and sharp short cartoons. Bozzetto Non Troppo and its fiction feautre-length follow up, Allegro Non Troppo will be a delight to anyone who loves cartoons and finds immense joy from tracing the influences of Bruno Bozzetto's charming imagination. The Bozzetto double bill takes place Friday 7 April at 15:30 pm - 18:00 at the Electric Cinema.
Who wouldn't be curious to see the mental gymnastics behind Mulholland Drive, Blue Velvet, Twin Peaks and Wild at Heart? The Art Life speaks volumes about the life of David Lynch and yet manages to retain an ethereal, elusive quality. It delves into how Lynch's childhood experiences and art-school preoccupations shaped works that continue to baffle audiences and critics alike and created a cult following in their wake. It's a sure highlight to round off our Lynch focus, and can be experienced  at the Electric Cinema on Sunday 9 April at 16:30 - 18:00.
On to another curious and elusive character in this exploration of Mark Linkous, the singer-songwriter and founder of indie alt-rock band Sparklehorse. The Sad and Beautiful World of Sparklehorse tells his story through the eyes of friends and West-Mids filmmakers, who'll appear for a Q&A after the screening at the Glee Club on Wednesday 5 April at 19:00 22:30.
It seems a fitting finale to this section of extraordinary individuals to pay attention to the Ordinary Heroes. They all have a story to tell, and it's clear that the selected filmmakers express a profound admiration and respect for their subjects. As a snippet of what to expect from this programme of shorts, Oor Wally is one of the best, a charming peek into a Scottish football team's longest-standing mascot.