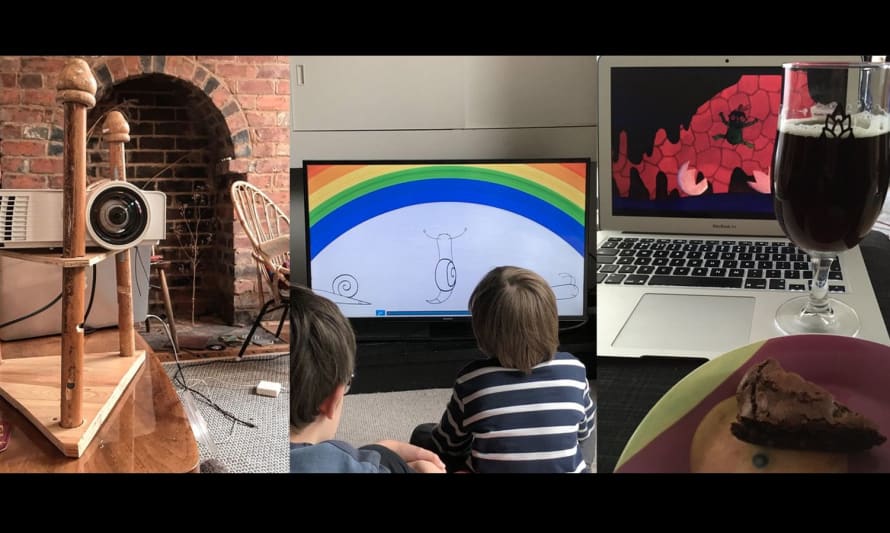 One week gone, one week to go...
Blimey, that was quite a week. Turns out that online festivals take almost as much work as 'real' ones, but just as with any regular Flatpack it is the audience buzz that makes it all worthwhile. Although sharing this programme has been a real joy, all good things must come to an end...
WATCH IT WHILE YOU CAN

For the past week a new short film selection has been going live every day, amounting to to over 50 shorts in total, and from Monday they will start to disappear (sob!). This weekend is your last opportunity to sample / binge-watch the full range of the competition...
THE HUMAN FACTOR
Future worlds and the weirdness of humanity - till 10 May

COLOUR BOX 1: A SHORT HOP
Snails, bears and dinosaurs - till 10 May

THE OTHER SIDE
Animated transformations - till 12 May

BETWEEN WORLDS
People living at the crossroads - till 13 May

COME TOGETHER
Unity and self-acceptance across genres - till 14 May

SEEING THINGS DIFFERENTLY
Mind-bending animations - till 15 May

LOUD AND CLEAR
Sonic shorts - till 16 May

SCREENDANCE SHORTS
A world of movement and experimentation - till 17 May

COLOUR BOX 2: IN FULL SWING
Musical family fun - till 17 May

While you're watching please don't forget to vote for your favourite, and see all of our award winners screened live on the evening of Saturday 16 May. The fun keeps coming over the next week, including some special lockdown-inspired talks as part of PechaKucha Birmingham and a celebration of internet cat videos courtesy of Babhaus.
BONUS FEATURES

Although we haven't been able to welcome guests from around the world to Birmingham as usual, this virtual festival has allowed us to connect with filmmakers and artists in all kinds of new ways. The result has been a rich seam of interviews and insights landing on our blog throughout the week, with highlights including:
A mesmerising timelapse of SONG YungSung painting one frame from his short Creative Evolution;
An animated interview with some of the characters from Dutchgaria;
A zoom Q&A between Holly Summerson (Acceptable Face) and Rico Johnson-Sinclair (CineQ);
A special behind-the-scenes film from the makers of Michel le Berger;
A chat with the makers of Operation Jane Walk from their homes in Vienna.
...And a whole load of others gathered on this blog.
AND ALL OF THIS IS FREE...?

The Flatpack 2020 programme is available entirely free of charge, and from the stats we can see that this has made our work accessible to a huge audience which might not get to enjoy it otherwise. However all of this takes a lot of work as you can imagine, and like many other creative organisations Flatpack faces a number of challenges during this extraordinary time.
We are strongly encouraging all of our viewers to contribute if you can, and you can do this in a number of ways...
1) Sign up to our refreshed membership scheme Flatmates for regular updates and special deals...
2) Buy a limited edition Flatpack 2020 print from our shop (pictured), or some other covetable item of merch... or
3) Donate! As a guide, a ticket for a short film screening at the festival would normally cost £10, and a pass for the short film competition around £35.